The program needs NET-Framework 2.0 - if you dont got it, it will be automaticly downloaded & installed.
(NET-Framework is like what is JDK for java).
But it's best to install it first, because you can choose your language. - Download NET-Framework 2.0
Clean-ET Release-Assembly 1.0.2.9- Download size ~ 600 Kb
If Web-publishing doesn't work with your browser, download the rarfile:
CleanET1.29b.rar - Download size ~ 600 Kb
Quick tutorial: Select your servers, addional pk3's if you like, press CleanET, when it's finished, select the server you want to join and press StartET.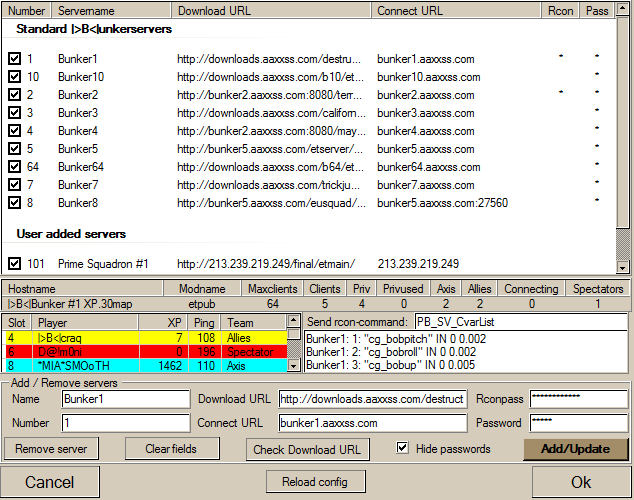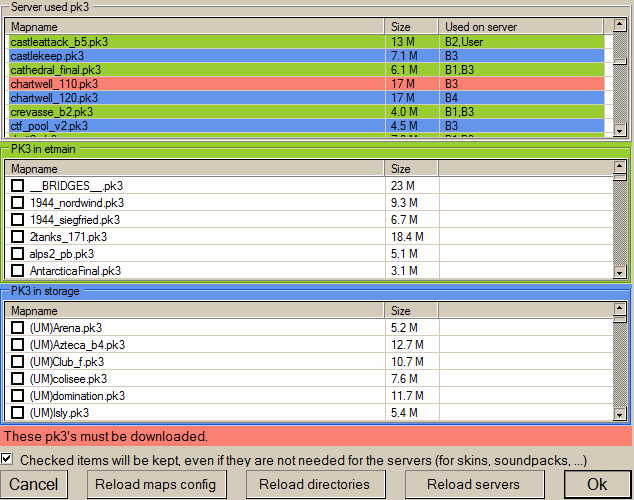 Since ages there is a bug in enemy territory, causing it to create many different errors when there are to many pk3's in your etmain-directory.
The only 'quick and dirty' method to fix it, is to reinstall et and download all maps again.
I started to move the files to a storage folder by hand and only keep those needed by my favourite servers, this tool makes the same for you automaticly. You can select from standard-servers or add your own, your selection/servers will be saved in a configfile. Files which partially match the name will also be moved, because there are more and more pk3s with the same name but different content.
It's also possible to select some pk3 which you want to keep even if they are not used by a server, this is for soundpacks/skins.
This selection will also be saved in a configfile.
Finally when you click 'Clean ET' it will move the unnecessary files to 'storage', needed to etmain and even download pk3 who are missing or create a downloadlist for leechget and so on.
Neat side-effect when you got fewer pk3's in etmain: et will start quicker and use less memory.
This is Giftware, if you use it, it would be nice if you contribute me something. Code & gfx by Holger 'Lynxx' Hippenstiel.
Music by Dees Productions - originals by Fanta / Plush.
If your house burns or your cat cries i'm not responsible.
It will look every day for updates, and ask you if you want to install it (if a new version is available).
It's might not be 100% bugfree, tested with dual-core cpu and because it uses multithreading sometimes it will take a few secs till threads (getting server, maps & directory-lists in background) are in sync again.
Would be nice if you got some extra ideas or report some bugs, have phun !
Changes for V1.06:
1) Only 1 music, which fits the tool more.
2) ET-Clean_server.cfg not compatible with older versions, because you now can also set password & rconpassword for servers.
3) Commandline-Switches:
-n = No music
-s N = Servernumber to select at begin/for autostart, default is first selected server in serverlist.
-c Start cleaning immediatly
-e Start cleaning and start ET immediatly
You could for example do:
CleanET -s 2 -e
which will clean et immediatly and download any missing maps and start et (with set password/rconpass).
Changes for V1.07:
Omg .. i wasnt aware NET-Framework uses such strange paths, noone would be able to find the program.
For example when i install it, it's:
"C:\Dokumente und Einstellungen\Lynxx.LHASA\Lokale Einstellungen\Apps\2.0\CXEQ62X7.5WV\ZHPYH5Q9.ANK\clea..tion_f916eb40da8e6a70_0001.0000_673f184a1ce8fc93\Clean-ET.exe"
That's why i did a little add-on, when path of et is set in registry, or you select it manually, a batchfile "CleanETPath.bat" will be written to the et-dir,
with this you can also create shortcuts and use the commandline-args.
Changes for V1.08:
CleanET will now give a warning when you try to start ET with a server not selected in the list, checked servers will get a light-green background, not-checked a light-red.
Fixed a small displaybug when downloading small files, old version 'thoughts' they are for example 846 megabytes .. not bytes - so you get 200 mins downloading .. but it really finished within a second.
Fixed a possible division by zero when calculating average speed.
Changes for V1.09:
Had a little bug in the parsing of map-sizes which caused wrong displaysizes with B5/B8-maps.
Changes for V1.10:
Highlighted/Bold the 'Add/Update' Button in server-list, because ppl usually pressing that button when setting passwords.
I hope the 'Download not visible' is fixed now (only 2 bars visible).
New Music: Dr. Demento - Ozzy Fudd - Kill the Wabbit !! Yeah ! B)
Changes for V1.11:
Added Bunker 7 & Bunker 64,
all IP's replaced against DNS-entries.
Config-Files will now be stored in %Documents%\%CurrentUser%\..\Clean-ET - this means future updates of CleanEt wont spoil your old settings anymore.
Download-progress is now an own window, this hopefully fixes the bug only the progressbars are sometimes visible.
Game will ALWAYS be started with +set com_hunkmegs 96 - will be later selectable in profile.
This will fix disconnect-problems for big maps and stuff.
Changes for V1.12:
Oops .. found a little bug, when download-url not ending with / - CleanET isnt able to download - fixed.
Changes for V1.13:
OMG .. im starting to hate C#, it creates a new Application-Path for each version.
Now im using Systems APPDATA-Var + Clean-ET.
Changes for V1.14:
No more fancy download-window, all output in the normal output-area.
Changes for V1.15:
Improved error-handling in case download aborted manually / got disconnected.
No Error-Popup anymore, only the faulty file will be printed.
Changes for V1.16:
Added an requester when there are NO servers selected, to ask you if you really only want to keep base-files. (For those ppl who just install and click CleanET).

By default now ALL Bunker-servers are selected.

Added Server-Infodisplay to serverlist (Players, Slots and so on ..)

Added Player-List to serverlist


Private Slots are allways green.




Axis light blue




Allies are yellow




Spectators are red




Connecting Players/downloaders are purple.



Added minimal rcon-commandline to serverlist, simply type your command, output goes in the textbox below.

Added 'Kick' command (menu-popup) in Playerlist if you got rcon for a server, which results in:


Fixed a possible Invoke-Bug.

Fixed Server & Maplist only disable mainwindow at first time opened.

The download-music will now start immediatly, because it takes some time to read the server & map-list for the first time,
this way you know it's running and will pop up shortly.
Changes for V1.17:
Lol, forgot to remove a debug-statement from the Clean-Routine.
Changes for V1.18:
Splash-Window while scanning the selected servers at the begin (reading pk3-list from many servers can take some secs).
All Windows now show in Taskbar
Server and Mapslist are now real windows and are dynamicly sized - which means you can resize them freely / maximize them.
Downloaded file will now always have the extension .tmp added, this way if CleanET crashes while downloading incomplete file will be removed when restarting.
*.tmp Files are deleted recursive in et-dir when CleanET starts
Passwords for rcon & reserved-slot in ET-Clean_server.cfg are now encrypted, so if someone takes a look in the file he wont be able to read them. (Maybe i add an optional user-pw later on).
Fixed a little bug when filesize is only byte / made little improvements more errorchecks while reading html.
Removed a possible bug when using Design-Classes from Serverwindow in Mapswindow. (For the experts: cross-reference design-template).
Profile-Window graphical design complete (including a 'Play music' Button ), but implementation not yet ready.
Changes for V1.19:
Profile-Window implemented - you can start CleanET with -p 0..99
Or start CleanET select the Profile and do clean or start et.


Please note: Each Profile has it's own Server & Maps-List - this means user-added servers are only available in the current selected profile.
And if you enter passwords for a server, it will only be available for this profile.
Download-URL for B5 changed
Changes for V1.20:
Oops - had a fatal bug in StartET()-method, which made it impossible to start with a selected server, thanks to JoeShooter for the Bug-Report !
Changes for V1.21:
No more transparent Window, normal Windows-Window now - which you can move around/minimize and so on.
Sound/Module-Support removed completly, because it makes problems on 64-bit systems and will on Linux.
B64 removed.
New Backpicture.
Changes for V1.22:
I noticed a bug in the application which caused it to be never terminated, after a while you got 10 or more CleanET running.
Now fixed.
And another pic again, didnt like the explosion.
Changes for V1.23:
Fixed Window behaviour - now Mainwindow will be hidden when subwindow opened and not blocking anymore, this way it possible for example as admin/players to just let it run in the back and take a look at the slots or who's on the servers.
Window-Positions now default to Windows-Default.
Changes for V1.24:
Windows are not topmost anymore.
Splash-Window will show which server is scanned in the moment.
Changes for V1.25:
Dam .. finally fixed the bug Clean-ET wont be terminated.
Changes for V1.26:
B5 download-url corrected.
All html-serveroutput converted to lowercase.
Changes for V1.27:
OMG .. the server wants the filenames casesensitive .. ok, so only the check case-intesive ..
Changes for V1.28:
Added Finger-command to the serverlist (ofcourse server must support it).
Added Exclude-List in Mapslist-Window.
There you can add all Files with wildcards you dont want, for example:
*News*
ZBunkerRemix*
s_Konigstigers*
or whatever you like - but dont overdo it - if the server needs the file, ET must download it again.

This way all ppl who complained they want to use Clean-ET, but dont want the optional news-files can exclude them,
they will still be downloaded but moved to storage.
Changes for V1.29:
Changed in Exclude-List where always taken, even if the window was canceled, fixed.
Added 342 rcon-commands to an auto-completing combobox, if you begin typing a command it will immediatly show all commands/cvars which could match and you could select one (cursor down or with mouse) or keep typing.
Fixed server-communication for longer output (for example pb_sv_plist).
Process communication improved, shorter waittimes when changing windows.
Added Refresh-Button in the Server-Window, which regets server-status, playerlist and so on ..
Added 33 mods to profile-window, vars are saved already, only problem left - where to store duplicates from mods, not sure if a global storage would be a good idea - because some files are needed for multiple mods, or maybe files from storage should not be moved but copied instead. Or maybe i'll do sub-folders in storage, but then again files would be stored/downloaded multiple times.
More than 2000 ppl use Clean-ET, but noone supports my work.
That's why i added a Paypal-Button/Small Browser.
The release-key is outdated, new key is valid till 23.02.2009.
Edited by Lynxx, 05 March 2008 - 05:28 AM.