September 2012
Community News & Information Vol. 103
Written, edited and published by:Snoid
Regular guest writer:Bean
- Community Statistics -
Total Posts
291,541
Total Members
4,555
Newest Member
gazz
Online At Once Record
298
13 July 2006 - 12:48 PM
-Feature Article-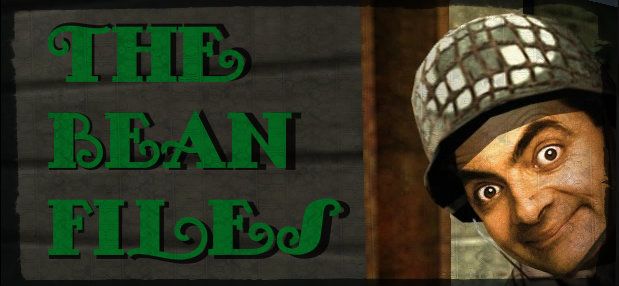 After a year of writing for the Bunker Times, Bean's submissions will now be presented as a monthly column: The Bean Files. The column will present historical aspects of Wolfenstein: Enemy Territory and its world. For now, the earlier "Weapons of Wolfenstein" series will continue its course in this column.
This month – the eleventh article in the Weapons of Wolfenstein series – we will examine the weapon that always delivers "death from above": The mortar.
The mortar is a remarkably simple and low-tech weapon. It's usually a smooth steel tube supported by a base plate and bi-pod. A finned bomb is dropped down the tube. When it hits bottom, a propellant charge is ignited, which launches the bomb skyward. What goes up, must come down. When the bomb strikes the target, its main high-explosive charge detonates. Sometimes smoke or illumination rounds are also used. Below is a close-up photo of a mortar bomb.
Technically, the mortar is an "indirect fire" weapon (one whose operators usually can't see their target, which is fired above the target in order to drop vertically onto it). Direct fire weapons are the opposite (the operator can see their target and, generally speaking, fires it straight at it). Indirect weapons like the mortar can't see the target because it's either too far away, or there's an obstacle between the two. Indirect fire weapons open up the battlefield, accessing areas that are protected from direct fire weapons; mortar fire can drop right into trenches, behind sandbag positions, or behind other concrete emplacements.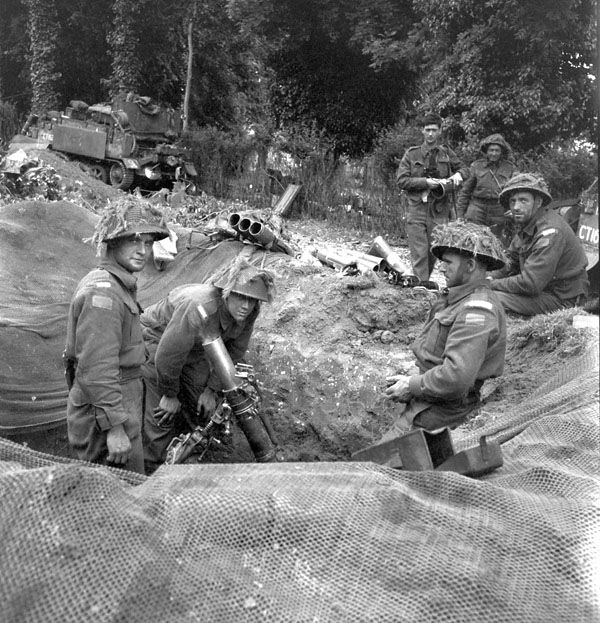 Under normal circumstances, a mortar battery requires a forward observation officer (or "FOO" for short, similar to Wolfenstein's Field Ops class). He radios the mortar instructions on where to fire, observes the location of incoming rounds, and communicates back to the battery with suggested adjustments for accuracy.
In the world of Wolfenstein, however, this system is much simpler (in order to make the mortar useable in a simple first-person shooter format). The main map shows where each bomb falls, and the mortar soldier makes adjustments accordingly.
In Wolfenstein, the mortar can be tricky to control. Once mastered, it can be quite effective. I've seen it turn the tide in some maps, such as the Caen map. If the Axis use the mortar to lay down a field of fire between the Allied spawn and the objective building, it can make for a quick Axis snatch and escape operation.
Players sometimes try, creatively, to use the mortar as a direct fire weapon. I once saw an Axis player (Screwloose maybe?) using the mortar in this way on the Gold Rush map. He set up camp inside the bank, using the mortar to fire up at Allied soldiers entering the bank through the far upstairs door. I think he used the sound of the opening door as his cue to fire.
Mortars, in their modern form, were first used in the Russo-Japanese War of 1905. Englishman Wilfrid Stokes designed the first portable mortar in 1915, during the First World War. Later, between the wars, he worked with a Frenchman named Brandt, and they developed the basis of the mortars used in World War II and Wolfenstein: Enemy Territory.
Common mortars were the 81mm and 60mm calibers, launching bombs weighing anywhere from three to 14 pounds. Mortars, especially the even larger calibers, were sometimes transported in halftracks or other vehicles. Mortars were prolific in World War II. The United States had only 150 at the start of the war; by the end, they had over 30,000. Below is a factory photo of a mortar being constructed on a lathe.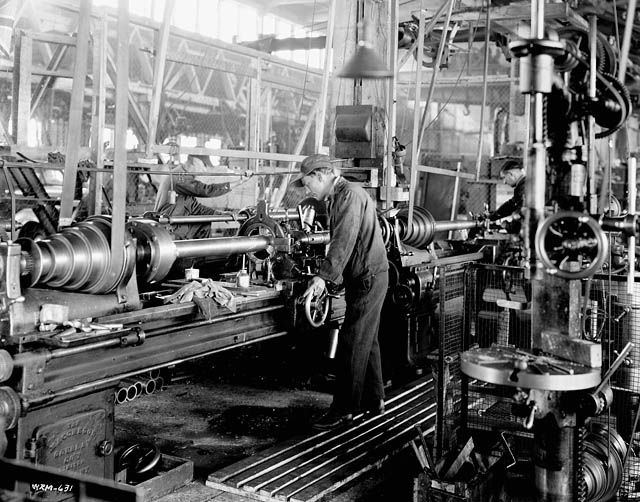 During the war, the United States also produced over 89 million 81mm and 60mm mortar bombs.
-Feature Interview-
This month's interview is with |>B<|EZFRAG
Q: What is your background? (tell us a little about where you grew up,
whether you have brothers, sisters, parents, your age, and anything
unusual about your childhood.)
A: My mother and father were born and raised here in Louisiana. They moved
to Hope, Arkansas when my mother was pregnant with me. They moved back
right after my birth. So, I spent most of my life here in Louisiana. I
was raised in the small town of Winnfield. Winnfield's motto is "We're
the heart of the forest." Lumber industry is big here. My father only
had a tenth grade education, but worked hard in a
lumber mill and worked his way up the ladder. I have 2 brothers. My
older brother is 2 years older than me, that would make him 48. He works
in a paper mill in West Monroe, LA. I have another brother that is 10
years younger than me. He cannot pursue his chosen profession of
pharmaceutical sales due to his unfortunate incarceration. Due to the
burden he has placed on my mother and father, the younger brother and I
had a "falling out". We have not spoken except for once in the last 15
years. The only time we have spoken was at my father's funeral in which
we each gave one another an upward head motion what saying "''sup?". I
did this to honor a promise to my mother to say something to him.

I graduated high school in 1984 and got the hell out of Winnfield. I
went to college in Monroe, LA at Northeast Louisiana University. (NLU)
They have since changed their name to ULM, the University of Louisiana
at Monroe. We call them the University of Lesser Mentality. Lol I went
to school there and met a girl.Dropped out and did blue collar work for
about 10 years. Mostly driving straight trucks.. One day, I lost my air
brakes and rolled my truck. That was the day I decided that I was going
to go back to school. I went home and looked at the college catalog
with only 3 criteria in mind. My degree had to 1) be able to always
find work. 2) would be able to earn enough to support my family. And 3)
was a curriculum that I would be able to be successful at. I had it
narrowed down between pharmacy and nursing. I did not know if I would be
able to pass calculus that was required in the pharmacy curriculum, so I
went with nursing. So, I graduated nursing school in 1999. Worked for 5
years as a RN, then decided I wanted to teach. I graduated with my
Masters' of Science in Nursing in 2006 and have been teaching since. In
our visit this year, Snoid, you discussed concern of your fiscal
Republican governor. Well, I feel your pain. As a nurse, I have been
working for a state hospital, and as a teacher, a state university. Our
fiscal conservative governor here in Louisiana has been cutting funding
to both of the institutions that I work for. So, to become more diverse
and have a better earning potential, I am starting work this Fall to
work on a Post Master's Certificate to become a Family Nurse
Practitioner. So, I may not be around on the server as much as I am now.
Q: Where do you work, what do you do, how long have you been there, and do you like it?
A: The 2 state facilities that I work at is Grambling State University and
E.A. Conway Hospital. Grambling is a historic black college. I am
Caucasian. I received both my degrees from Grambling. So, I am one of
the few white boys who can officially Afro-American Engineer something.
Q: We all know a little about the Frag family but who was it who found
out about ET first and how did all but one in the family then get
involved?
A: Well, I was the one who found out about ET. I was working in an ICU of
another hospital for some extra cash when I heard 2 other male nurses
talk about it. They went on and on about this field ops who would not
throw out ammo and call arty where they had to run. When I expressed
interest, they told me where to download it. I have been playing ever
since. Jr saw me playing when he was 3 and started playing. When
KidFrag came along, he didn't want to be left out. I also have 2
daughters. One of them liked to play from time to time. Her name was
SistaFrag.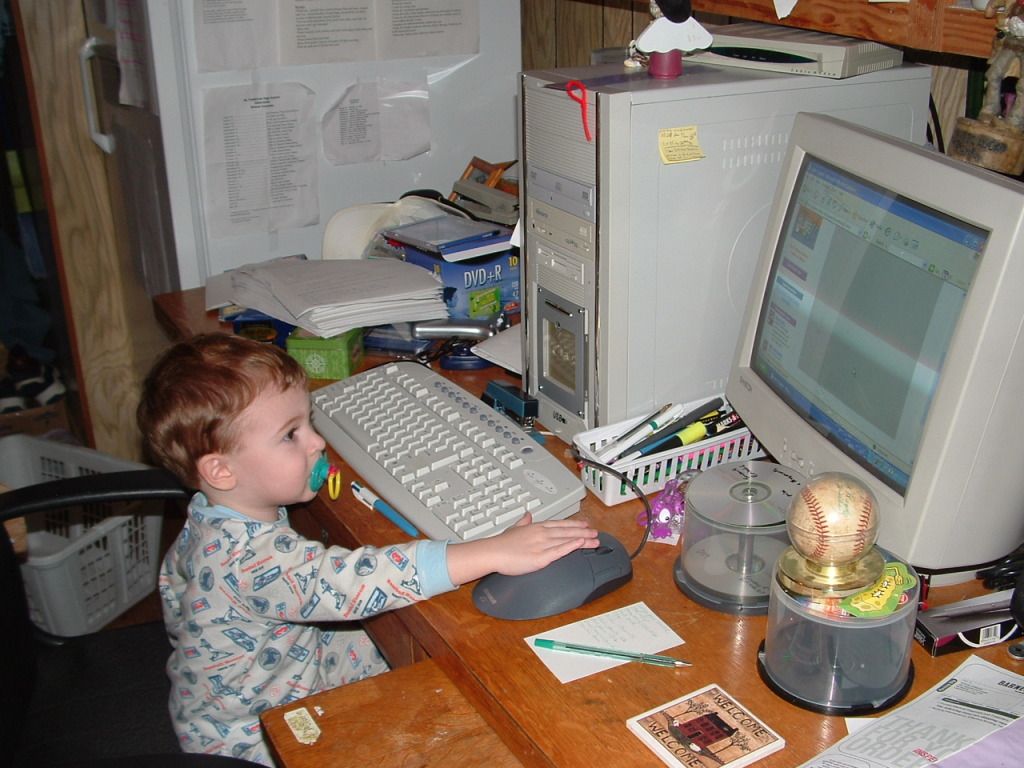 Jr first trying to play Wolf.
(Editor's note: What a great picture)
Q: Is Mrs. Frag the only family member who doesn't play?
A: Both of my daughters are grown and out of the house. So, of the 4 of us left, she is the only one that doesn't play.
Q: Do you have a computer network in your house with a router? I've seen at least 3 of you playing at once.
A: We live in the country. Out from civilization. We had cable internet, but they were very unreliable. We signed up for DSL. We have a wireless dsl router which I have hardwired our 3 computers. We also wired a lynksys wireless router in bridge mode in the middle of my house, so I can access my tivo's and other wireless devices. Mrs Frag dabbles in photography, and when she starts uploading/downloading photos, it's impossible for us to play.
Here is our computer setup. As you can see, the boys are close so I can keep an eye on them. Unfortuneatly, when we are on opposite sides, they are constantly looking over their shoulder to see where I am at.They take joy in ending my sprees.
Q: Besides playing Wolfy ET, do you have any other interests or hobbies? Include a little about the kids too.
A: Me first. Mrs Frag and I were married for a few short years when she told me she wanted me to pick up a hobby. So, I decided that I always liked the guitar, that I would learn to play it. So, I bought an old beat up acoustic off of ebay to see if I would be able to learn. I worked up a song and decided I would be able to do it. A year or 2 later, I'm sitting in the house scrubbing a song off and Mrs Frag and I had another conversation: Mrs Frag, "Remember when I told you to pick up a hobby?" EZ, "Yeah." Mrs Frag, "Well, sitting around the house making noise wasn't what I had in mind. Pick another hobby."After this conversation, I did some soul searching. Inventorying my interests. I decided that I would take up beer drinking. I decided that I would start brewing my own beer. I built my equipment. And started making my own beer.
This is my Keezer. It is has a 7.0 cubic ft freezer inside. I have a temperature controller on it to program specific temperatures.It holds my 2, 5 gallon kegs as well as my CO2 tank.
Which leads me to my next story. So, one day, I'm in my house, drinking a beer, playing my guitar, when Mrs Frag and I had another conversation. Bottom line, she wants me to pick a hobby that is going to get me out of the house. LolAs I look at my household and evaluate my role in it, I have come to the realization that I am only a roadie for my kids. All I really do is chauffer them around and carry their stuff. Both boys play baseball and football. This year, they have told us they also want to play basketball and soccer. It's going to be a really busy year.
Q: When you discovered Wolfy ET, were you hooked right away?
A: I was hooked on ET the first time I played it. I bought Return to Castle Wolfenstein and played the single player multiple times on hard. Then I tried the multiplayer and was hooked instantly. I remember playing a server, all Beach, all the time. Unlike the single player mode, you could not predict where someone would be in the multiplayer mode. Not only was the gameplay different, the relationships that I made playing this game is priceless. I have on my phone, contacts that I call, text and email of people I considers friends that I have never met face to face. I have been fortunate to meet 2 of the people that I play with. I met Ryzan in Dallas a few years ago. And I met Snoid in Wisconsin this year. It was really cool.
Q: There's still a core group of Wolfy ET players that are keeping the game alive. Do you ever see a time when you'll move on to something else... or always play ET?
A: I have tried to move on. I waited with great anticipation for Quakewars: ET thinking it was going to be the next great thing. Too bad it sucked so bad. I have played Minecraft with Pey, A5, Xlpo, etc. I have recently downloaded World of Tanks after reading the thread on the forum about it. Both are fun and are something to do when the server is empty. But I always come back to ET.
Q: What is it about the game that keeps you coming back for more?
A: Well, to me, it never gets old. No matter if you play the same map over and over, it is different each time you play. With multiplayer, every goes around does stuff differently. Also, the people. I have met a lot of people that I have never met face to face that I consider to be friends.
Q: Do you consider yourself an average player... or a major stompage player?
A: Lol, I consider myself an EZFrag. As I play, I get ecstatic when I have a map with more kills than deaths. You would think I would be a better player after playing all of these years.
Q: What class do you like playing the best... and why?
A: I like playing Medic the best. I like it because the medic and health himself up after a conflict. I remember playing HKF with Maddad. We were talking one day about the "Rambo" Medics. He started saying that if you can't beat'em, join'em. So, I started playing Medic. And I like it.
Q: What are your favorite maps... and why?
A: I like the dual objective maps the best. Like Darji and Baserace. I like it when you have to decide if you are going to attack or defend. I also like to see it when a team strategizes together to win a map.
Q: What is the most exciting thing you've ever done? (skydiving, bungee jumping, exploring a cave, etc.)
A: I guess I live a boring life. I do not partake in activities listed above. I really loved playing baseball and softball while growing up. My most exciting high school exploits were hitting a homerun out of a park that was 350 feet big. There was a couple of times I won games by executing a suicide squeeze bunt. There was the time I turned a triple play while playing softball.Outside of that, I love to ride roller coasters. This summer Jr was finally tall enough to ride with me. We rode a couple of world class coasters this summer.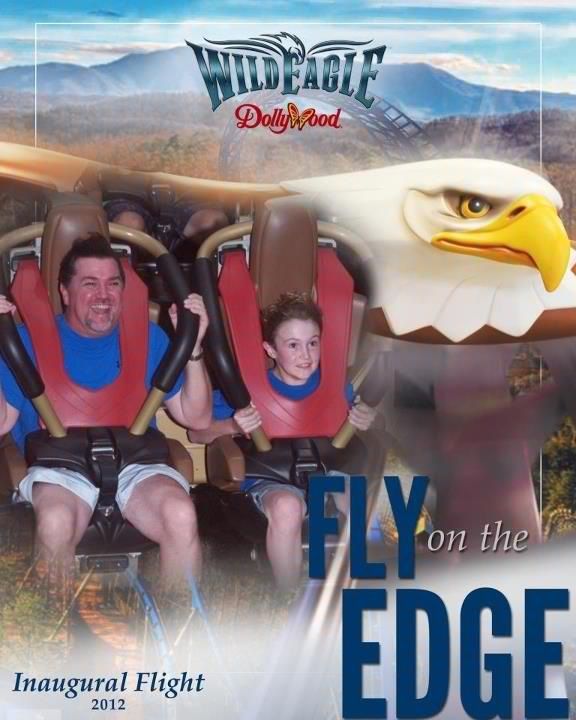 Q: What kind of vehicles do the Frag family own?
A: Mrs Frag drives Chevy Equinox. I drive a Chevy Silverado.
Q: What would your ultimate mode of transportation be?
A: My dream vehicle is a jeep wrangler. I love riding with the top off. I had one when I met Mrs Frag. After saying "I do", she said that jeep has got to go. I hope to buy another one though.
Q: If you could order any meal from a restaurant, what would it be?
A: Depends on where I'm at. If I'm in Florida, at the Crab Trap, I would get grilled Mahi, Tuna or Amberjack. If I'm at the Great Dane in Wisconsin, I'd get the brats. If I'm at the Weiner's Circle in Chicago, definitely the Char Dog. If I'm in New Orleans, I'd be eating raw oysters on the half shell at Felix's Oyster bar.
Q: What is something new, interesting or funny about you that your Bunker buddies don't know?
A: Wow, I can't think of an answer to this. I would think that the fact that I'm a male who is a Registered Nurse. If you would have told me when I was a teenager that I was going to grow up to be a nurse, I probably would have punched you in the face. It's not a manly profession. I do get made fun of. But, you just go ahead and laugh, then go back to work outside in the elements with your male co workers, while I work in the air conditioned confines with all the attractive female nurses.
Q: Do you live close to any Bunker members and have you met anyone you play with face to face? (other than me...lol)
A: Only ones that I have met, besides the Frag clans, were you and Ryzan. I went to Dallas to a conference. He came over to the hotel, drank beer and shot the breeze. Cool dude.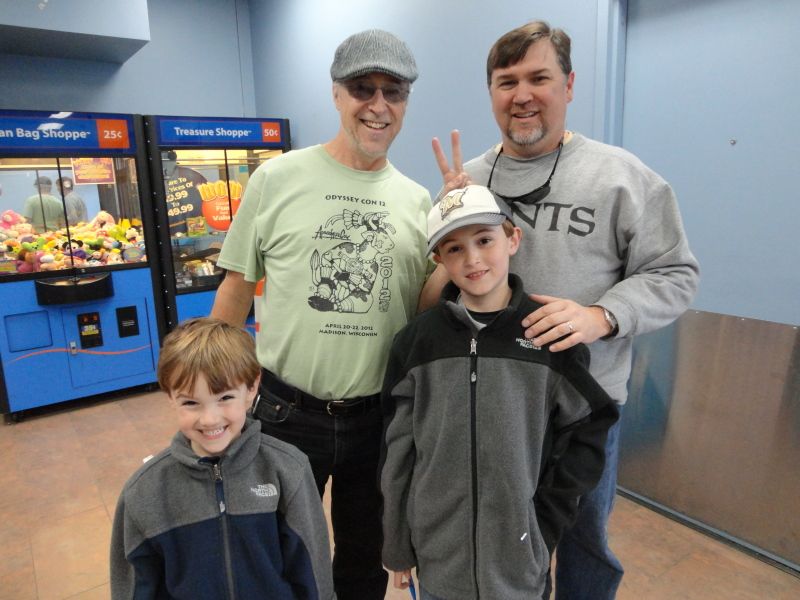 Q: What positive changes... if any... would you like to see in the Bunker community?
A: I think I have already seen positive changes in Bunker. The revival of B2 has been great. I think we have great leadership and help with the servers. I think Jec, Mongo, Pey have been doing great work with the servers. And all the other guys that donate their time, you Snoid, and Bean, not to mention the others that I can't think of right now. You guys help keep us going. And I know it's a thankless job. No one ever contacts these guys just to say thanks or good job. I'm sure all they hear are the negatives. So, you guys, I want you to know that I appreciate the job you do. You guys are what is keeping us going.
Q: Do you like the new Bunker website changes... and why or why not?
A: I do like the changes. At first you don't. Nobody likes change. But then you connect and the new look pops up, then you realize how cool it looks. I think it keeps up looking fresh and new.
Q: Any final thoughts... including someone you would like to see featured in a future interview?
A: The only other thought I would like to include is this. I wish some of us could get together to pitch ideas to increase the population of the community. Everyone compares Bunker now to "back in the day" when all 64 slots were full. But keep in mind, that was before competition with other platforms like xbox and PS3. Before competition with Battlefield and Call of Duty. I wish we could come up with a valid idea that would draw people back or get new ones to play all together. We have had these discussions before. One of our members, Mongoose, actually coded an installation program, when used would install ET on someone's computer , then direct them to Bunker. I don't know if it would still work since we changed ip's since then. But the hope was for members everywhere to burn a spindle of cd's and give away a free computer game. Who would not try it. Of course we would have to have It labeled up good so people wouldn't think we were handing out viruses. It's just a thought. But we need to start thinking about the future instead of reminiscing about the past.
- Editor's Comments -
I had promised the final segment from |>B<|Seaman this month but he was unable to work on it due to a very busy work schedule in August. He hopes to have it finished by next month.
And the New Special Feature from THEN00B is also delayed until next month. He will be reporting on news items and activities that the younger |>B<|unker members are involved in.
Edited by Snoid, 01 September 2012 - 10:17 PM.