December 2012
Community News & Information Vol. 106
Written, edited and published by:Snoid
Regular Staff contributor:Bean
New Staff writer:Funnybunny-Wingin'it
- Community Statistics -
Upcoming Calendar Events
Community Calendar B2-Party XVI
Occurs on 12/01/2012
288,941 Total Posts
4,576 Total Members
plummer18 Newest Member
152 Most Online
2820Spammers Stopped
- Contents -
The Bean Files
Featured Interview: |>B<|Led Zeppelin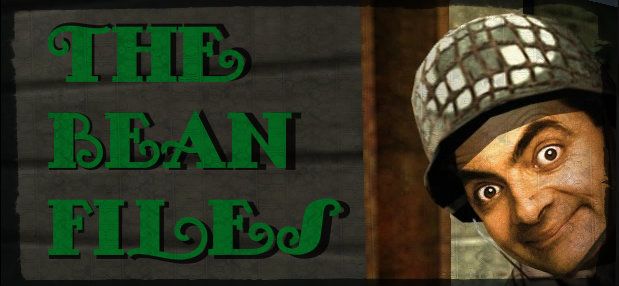 Weapons of Wolfenstein – Part 14 – The Knife
Soldiers have used "edged weapons" - swords, knives, tomahawks, spears - for centuries. In this edition of
The Bean Files
, we take a look at the knife, one of the most basic weapons we use in Wolfenstein: Enemy Territory.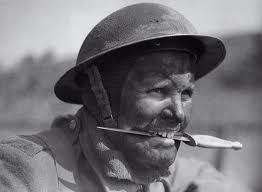 This article is dedicated to the memory of RodValley, a Bunker memberwho sadly passed away last March. Rod was an enthusiastic knife-user in the world of Wolfenstein, and a heck of a nice guy. May he rest in peace.
All World War II soldiers received rudimentary knife training for hand-to-hand combat. But it's a weapon that was seldom used by regular troops, both in reality and in the game. Generally speaking, your field ops team-mates are shirking their duty if you've run out of ammunition and must resort to the knife. Knives were more likely to be used for opening tins of rations, rather than against enemies in combat!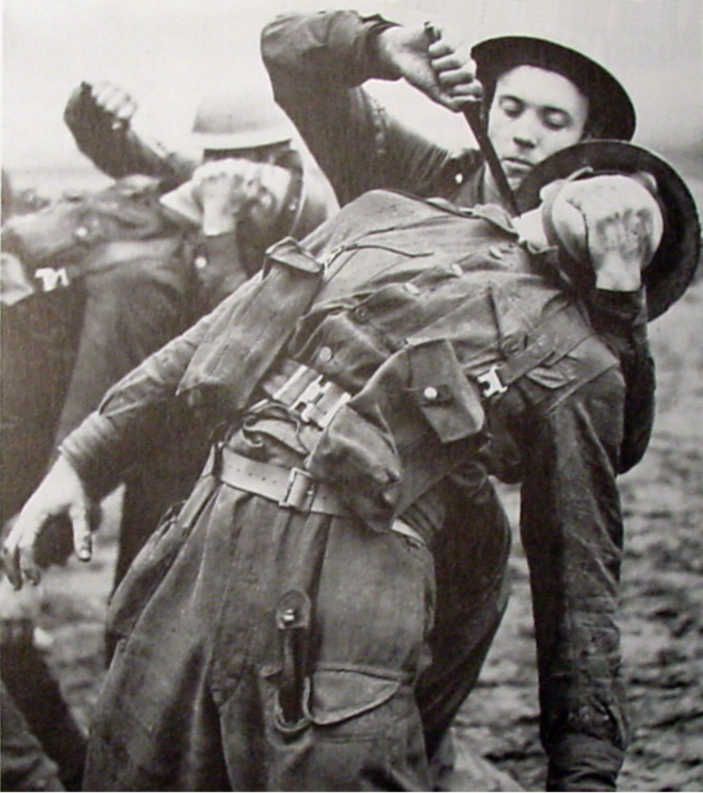 Elite troops such as commandos were given specialized training with knives. In particular, they became experts in using them while also keeping their victims silent. One such unit from World War II was the First Special Service Force, also known as the Devil's Brigade or the Black Devils. It was a joint US-Canadian special operations force that fought mainly in Italy and France. Knives were so important to this unit that its commanding officer, Lt. Col. Robert Frederick, assisted in the development of a new edged weapon. Styled the "V-42 combat knife," it featured a thin double-edged blade made of high-carbon steel. See the picture below. It could penetrate the average military helmet, if enough thrust power was employed.

In Wolfenstein: Enemy Territory, the primary user of the knife is the Covert Ops class. Most often they use it after infiltrating behind enemy lines, wreaking havoc on enemy snipers, mortars, or other soldiers isolated from "the front". Gaining experience with that class allows for a one-thrust kill, quickly dispatching unsuspecting enemies.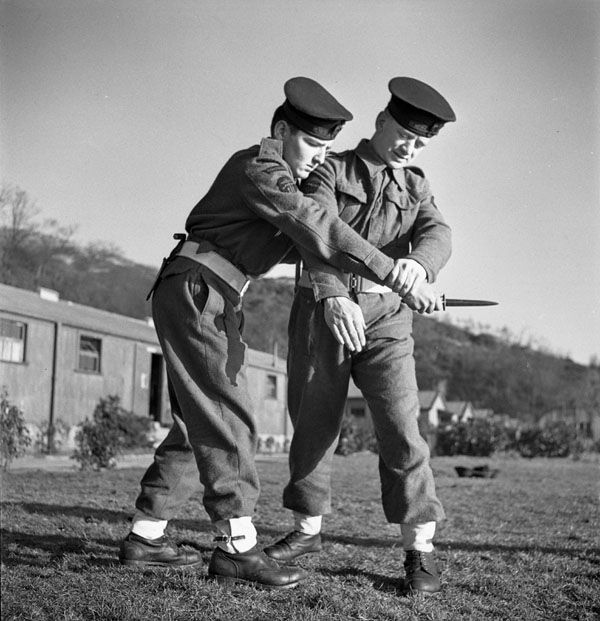 Knives were an important feature of the original, two-dimensional Wolfenstein games from the 1980's. In those games, ammunition was in limited supply. You had to conserve it, or were often out of it, which led to frequent knife action. One of these early games also required silent knife killing to avoid alerting other guards of your presence. Knives often have important ceremonial importance. Whether it is an engraved dagger in a special presentation box, or a Scottish dirk stuck in your woollen sock, they can be symbols of status, culture,religion, or achievement. They also have significant collectible value today.
-Feature Interview-
|>B<|Led Zeppelin
Q: Where do you live and why?
A: I live in Lima, Peru. I guess because I was born here but even though I have lived abroad on a few occasions, I believe Lima has very appealing qualities to it that give a certain balance to the lifestyle.
It's not the suburbs!- which is important for me; being able to walk down to the store is
something that I enjoy very much, but at the same time it's a quiet enough place that you can go out in your pajama pants and nobody will give it a second thought.

There's a park every 2 blocks, and most have the kind of bars you can use for chin ups.
Any sort of raw ingredient is under a dollar here so eating healthy is easy as pie, no need to stuff your face full of McDonalds unless that's what you want to do. Nightlife is OK, but summertime is really the best around here, the beach is where it's at.
Q: What type of work do you do and are you happy with what you do?
A: I work part time at a travel and tourism agency, keeping their online operation running; handling the Web design- and the rest of the time I'm trying to grow a business I started with one of my best friends, that handle stuff like digital design or web design for other companies. Right now we have some noteworthy clients like two real estate agencies and a house of production that makes commercials in South America and Spain... we made their websites.
I'm not too happy about working on web programming and web design to be honest, I find that it's beneath my set of skills but at least I'm exercising my passion for programming/writing scripts somehow. My associate and I are trying to expand our business towards making apps for smartphones and design in a broader sense. So it's a means to an end for now, hopefully.
Q: When did you first discover Wolfenstein ET?
A: It was, I THINK, back in early 2006. I was out of high school for about a year and i was working on a quake3 mod with some guy before I even started college, even back then I was interested in making simple mods and even 3d models which I've done as a hobby since 1999. The other guy making the mod with me, mentioned Wolfenstein ET and how it was the ultimate mod for Q3/RTCW, so I downloaded it. I couldn't believe it was free to play either, I don't think I really wanted to work on that mod anymore after I had played enemy territory.
Q: What is it about the game that you like?
A: Back in the day, what I like about it was how you level up, and the class system meant the game rarely felt like it was getting stale or that you had seen everything there was to it.
Nowadays, when I have seen and experienced so much of the game- what i like about it now is that even though some guys are great fraggers, they can still lose the match. It's all about team-play and how your actions will influence the overall scheme. I find that a well placed
smoke grenade from a Covert Ops at the right moment can turn the tides of a battle in a big way... depending on the map though, of course.
Q: What is your favorite map / maps?
A: Goldrush, Venice, Paris, Oasis, Caen. I like maps that tend to last the whole 30 min, where you can have a hell of a fight. Usually those maps I mentioned resolve in the last few moments, the balancing on them seems just right.
Q: You mentioned to me, in a prior communication, that you've tried a little map making. How was your experience and were you successful?
A: Interesting to say the least. I had tried to make maps for the first time also back in 1999 when it became fashionable to map for Quake2. One of my favorite games ever, quake3, was brand spanking new and a bit of a dissapointment given that it had no single player campaign. My attempts were mostly failures though. Then in 2007 when I really got into Enemy Territory I talked with my long time friend |>B<|gkcito and we tried to make a few maps. This time with a lot more success. We took a team approach to it. I would handle all the technical details that the map would need to run, like the visibility, culling and the scripts and gkcito would make it nice and pretty since he had a good eye and imagination for that kind of thing. Eventually we tried to make a map so ambitious that even though it was technically completed around 2009, the map needed some balancing to be fair to both teams, and more important than that, we had made
a 64 player map, absolutely huge. And this was at a time when bunker attendance had already started to drop. So we decided it was probably not a good idea to release such a massive map when interest in wolfenstein was waning.
Q: What did you do right... and what, if anything, is lacking from your map making attempts?
A: Like I said, at the beginning my maps were and have always been technically sound, but my eye for designing environments has been improving with baby steps. Sometime back, I decided I would sit down and open a few books for architecture and decor so I'm learning about it even now. It's a complex subject, in particular for a game like Wolfenstein where you're trying to make mostly period pieces. Art styles across time influence architecture and design a whole lot.
But now I can make more believable structures, know where the weight should moreless be supported by a pillar and that type of thing. I still need to improve on some things Marko is great at, like making stuff look worn, dilapidated and abused. It's an important skill to have when you're making maps! Learning skills like those is what I enjoy most about this hobby of mine so the journey is even more important to me than the final product.
Q: Did you learn anything from my November interview with Marko from MLB?
A: Yes. The words he used in the interview were not anything too insightful, nothing I haven't read as a longtime forum member of the splash damage forums, but looking at the pictures you uploaded really made me realize the genius of this guy for making natural terrains contrast
with all the smashed concrete I was talking about earlier. I must have stared at those pictures for a good ten minutes.
Q: Are you going to continue working on your map so you can have it tested on some of the Bunker servers?
A: The one I first presented to Bunker has been lost... a bit of a shame. The 64 player map will probably not see a release unless the server starts getting more visitors. It's not a scenario for a 4v4. But I'll definitely work on a new idea for the future. I like to build my maps with out of the ordinary objectives and scripting.
Q: Do you find it amazing that after so many years, people are still making maps for Wolfenstein ET?
A: Yes and No. Even though the game is pretty old, the only two big communities that I know people are making maps for are the quake3 engines (ET, JediAcademy, Smoking guns) and the source engine (left4dead, Counter-Strike, Half life2) and it's not surprising, given the fact that you can convert and share assets from one game to the next and that the developers have made it easy for the user to make maps. This doesn't seem to happen with games like Call of Duty, where most of the custom maps are either just hacks, or ported from the previous Call of Duty.
Q: Some players, especially the younger ones, have to set aside Wolfenstein ET while they're in school or busy with their family. I noticed you're not playing as much as you did a few years ago. What in your life has changed to limit your playing time?
A: Honestly, not much. The reason I stopped playing as much about 2.5 years ago was that I got a copy of Call of Duty - World at War, the only modern WW2- themed Call of Duty. It's one hell of a game! Customization is good, there is a leveling system, the guns feel realistic and powerful (1 shot kill usually) so I've spent my time on that game a lot. I'm quite good at it (better than I have ever been at wolfenstein) so I keep playing it when I can. Sadly it's a game where frags are the thing that matters the most, there is no objective system except for a capture the flag type thing, or defuse the bomb which gets old.
Q: If you have a car/motorcycle, what kind is it?
A: I'm a perpetual pedestrian, though I can borrow a car from my folks if need be. If I were to buy one it would either be a 2007 Toyota Camry or a 2006 Nissan Maxima.
Q: If you could have any vehicle, what would it be?
A: Since I don't have an urgent need for a car that I'll use daily, I'd say I'd get the car that I always wanted as a young man... a 1996 Dodge Viper GTS. There's something about the way it sounds and looks that I love and haven't seen before or since. If I had all the money of Batman, I would be driving a black
Lamborghini Murcielago, but let's not kid ourselves! lol.
Q: Have your traveled much, and if yes, where have you been?
A: You could say so. I've been living in and out of the USA for a big part of my life since my family had to relocate constantly... my father was in the navy for 35 years.
I have lived in San Antonio, TX.; Norfolk, VA.; Bethesda, MD; Centreville, VA. and NYC, NY. and have been through most places in the east coast. Other than that I have taken a few trips on vacation to Mexico and Panama.
Q: Is there some place in the world you really want to visit?
A: I'd like to go to Italy someday. It's kind of important for me because I have citizenship for a town near Tuscany. So I'd like to see the place and go to Florence definitely. But I'm in no rush for now. I'll let the European economy pick up a little first.
I hear Barcelona is also great. An important female person in my life lives in Barcelona so I have been meaning to go there for a while.
Trans Atlantic trips apparently cost a lot of money though, so I'll do it when I can heheh.
Q: Do you have any friends in the area where you live who play Wolfenstein ET?
A: I have two friends who would ocasionally play. One of them is player S_CON. He played every now and then but was never a hardcore ET fan. Same with user GioIndigoCrystal. He liked to play wolfenstein a lot, but I remember he used to play a card game competitively, Magic the Gathering. Not sure what he's doing now I think he embraced a more hollistic lifestyle and is farming beets somewhere. (sadly, i'm not lying).
Q: Have you met any Bunker members face to face? If yes, who?
A: Yes. GKCITO used to go to school with me. We have known each other since 7th grade, and became good friends shortly after we met.
Q: Are there any hobbies you're involved in that you'd like to mention?
A: Outside of computers, my only hobby is training in the martial arts. I have been training in some form or another for about 8 years. First with a little bit of boxing, but then I got into karate/tkd. I'm very involved with it. In particular, with true old school martial arts and not sports like boxing.
Q: Can you see yourself still playing Wolfenstein ET (or a future version of it) when you're an old fart like me?
A: lol, god I hope not! Not because Wolfenstein is a bad game or that there is something I don't like about it, but I would hope that in the next 20 to 40 years they'll come up with something just as fun but a bit more modern hahahah.
Q: Anything else you'd like to add here that I haven't mentioned yet?
A: I'm including some pics of my other, OTHER hobby; 3D rendering. Both the grapes and the car took about 3 weeks, for different reasons. It was all about lighting and materials with the grape. As for the Viper, I really wanted to make an accurate model, so I'm pretty sure this one is within an inch of the real thing. Planning and tracing took away most of my time.
Edited by Snoid, 30 November 2012 - 03:30 AM.