February 2013
Community News & Information Vol. 108
Written, edited and published by:Snoid
Regular contributor:Bean
Staff writer:Position Open
- Community Statistics -
Total Posts: 290,302
Total Members: 4,586
Newest Member: _-_Wojtek_-_
Most Online: 152
Spammers Stopped: 9,837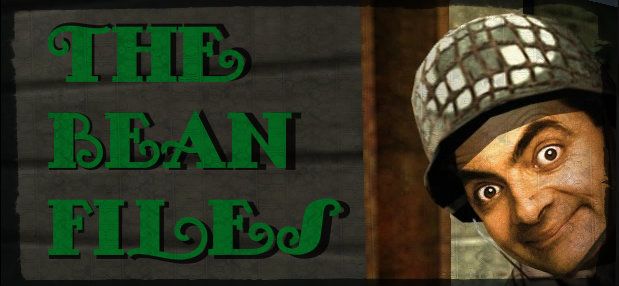 Weapons of Wolfenstein – Part 16 – The Flamethrower
Welcome to the last instalment of the Weapons of Wolfenstein series.
Don't worry, The Bean Files will continue after this, with other
interesting articles on the history and technology behind Wolfenstein:
Enemy Territory.
Heavy weapons don't get much respect among Wolfenstein: Enemy
Territory players. Their users are generally called noobs, their
skills questioned, their team play criticized. Unfair statements,
generally speaking. Some heavy weapons can be crucial to the winning
of a map. The flamethrower can sometimes be that weapon.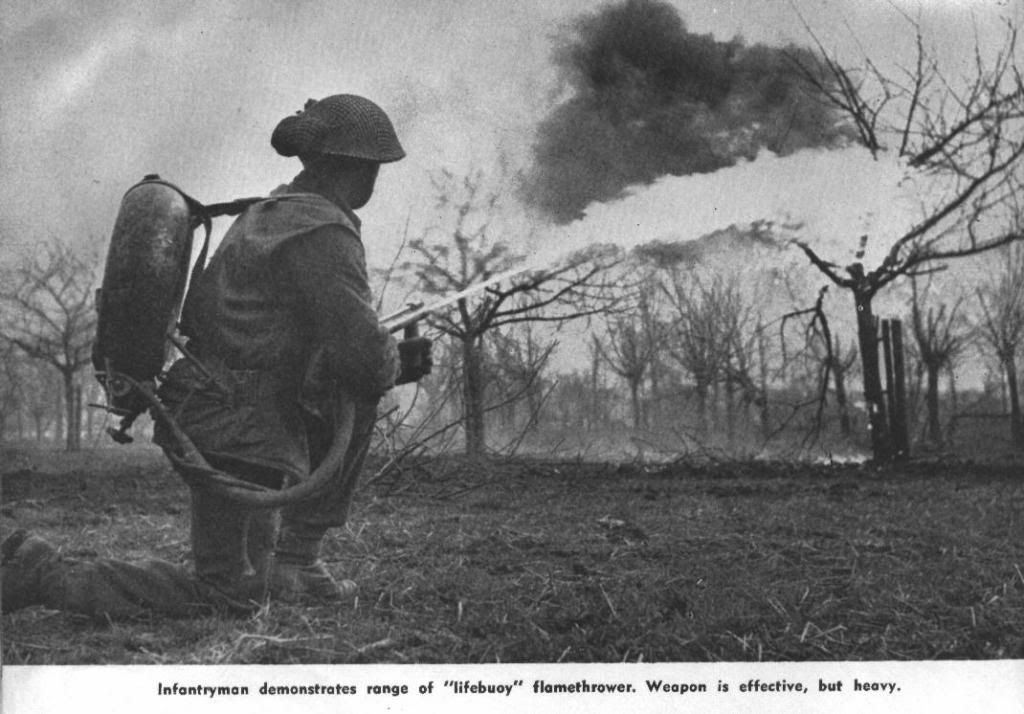 Germany was the first nation to deploy a flamethrower on the
battlefield, during World War I. They found it to be an effective
psychological weapon. There's nothing more innate than man's fear of
fire and burning.

Flamethrowers were developed and intended to be used against bunkers
and other strong defensive positions, and against armoured vehicles.
They were not to be generally used in the open fields of combat. All
flamethrowers had two separate tanks: One to hold the fuel (usually
petroleum), one to hold the propellant (usually nitrogen). Attach the
two tanks with tubes, add an igniter at the end, and voila! You've got
yourself a flamethrower.

The Germans again introduced the weapon onto the battlefields of World
War II. Their first version weighed a whopping 80 pounds, carried
three gallons of fuel and had a 30-yard range. Later Germans
developments were lighter and had a better range.

The British had developed some poorly-designed flamethrowers at the
outset of the war. When they captured a few German ones, they were
able to improve their own designs. Some British flamethrowers had also
been converted into smoke-throwers for use in the Middle East.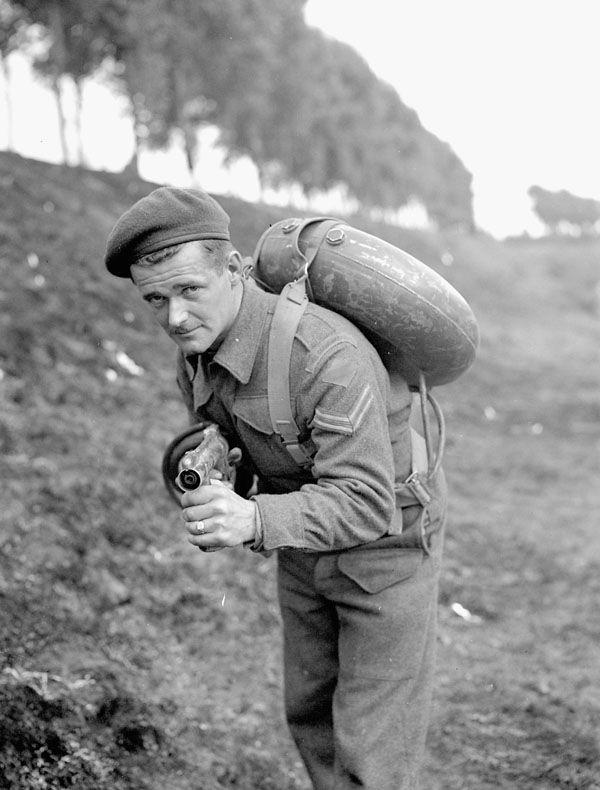 The United States had no flamethrower in its arsenal in 1940. They
quickly developed one, later versions of which used thickened
petroleum, otherwise known as napalm. The thicker napalm gave the
weapon better range. The Americans also added a liquid soap-like
substance to further increase range, which also to make the fuel stick
to the target.

The American Army used flamethrowers primarily in the Pacific Theatre.
There were problems, however, with the electric igniter in early
versions. Often American soldiers used their cigarette lighters as an
alternative igniter! They fixed this by creating an igniter that used
a blank revolver round. No element of surprise would be possible with
that one!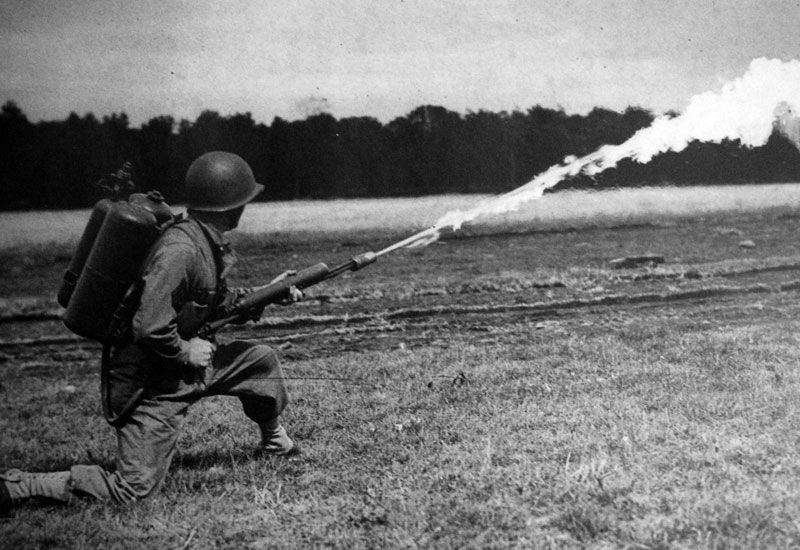 Just like in Wolfenstein: Enemy Territory, in reality a flamethrower
could be just as dangerous (perhaps more so) to the actual user,
rather than the target. As a result, engineers or infantry equipped
with flamethrowers generally weren't too happy about it. Not only were
they dangerous things to carry around (would you like walk onto a
battlefield with a few gallons of highly-flammable fuel on your back?)
but the user had to get pretty close to the target before using it.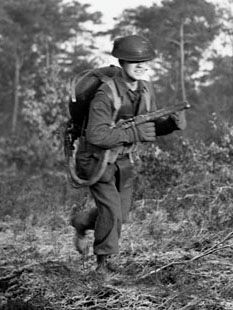 The weapons were unpopular also because, similar to what often happens
in Wolfenstein: Enemy Territory, all the enemy's firepower tends to be
concentrated at the source of the flame. The user of the flamethrower
became a huge target, due to the destructive power of his weapon, and
it was easy to see from where the flames originated. In the game,
flamethrowers can be quite effective in dislodging camping defenders
in closed spaces, like the pillars in Paris Bastille, or the bank in
Gold Rush.

Soon, soldier-carried flamethrowers were phased out and replaced with
those mounted to tanks and other armoured fighting vehicles. You saw
them on Shermans, Churchills, Ram tanks, and Panzer variants.
Hand-held flamethrowers were simply too vulnerable to be carried into
battle by soldiers.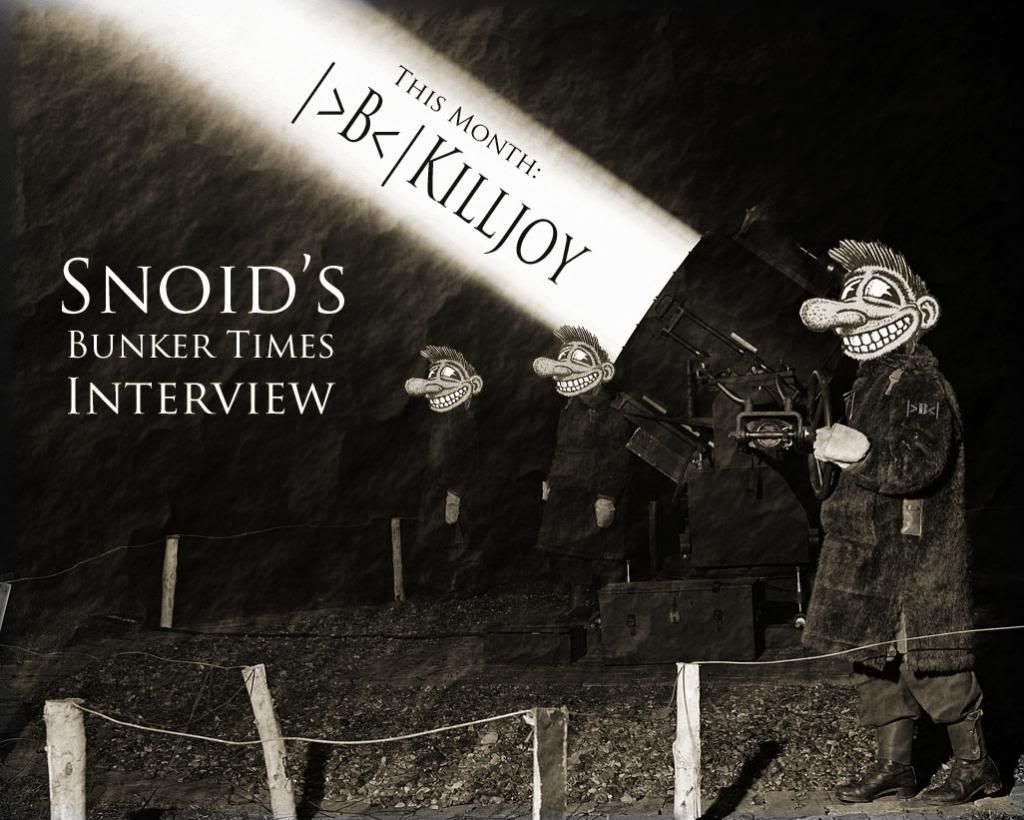 Q: A large contingent of Bunker members, including you, come from
Europe. Where do you live, why, and for how long?
A: I live in a small town called Berkhamsted, in the County of Hertfordshire which is nestled in the heart of the Chiltern Hills. It's about a 40 minute train journey to the centre of London or a car journey, that can take between 1 and 3 Hours. I first came to the town with my work and have been here for about 20 years.
Q: Are you married with kids? If yes are you still married and how many
kids?
A: I have been in a relationship with my partner for 27 years, but perhaps inevitably, given that the UK is one of the worlds most secular societies, have never felt the need, social pressure or necessity to get "Married".
I have two children a girl of 19 and a boy of 15. My partner was previously married with children and I have been a "Step- Grandad" for the last 19 years and my Son was an Uncle three times over the Minute he was born.( Life's complicated !)
Q: How do you pay the bills? Are you employed, run your own business,
self made millionaire, etc?
A: I spent the vast majority of my working life, from when I dropped out of University, up until 3 years ago, in the retail drinks trade, managing a countless series of Wine Shops, one of which eventually led me to settle in Berkhamsted. Unfortunately the British "High Street" is dying a slow but inevitable death. When I was made redundant for the Umpteenth time I fell, somewhat bizarrely, into the "Drilling Industry" and now work for a small company that drills holes of anything from 3 to 200 metres, for Ground Investigation, Monitoring, Water wells, Drainage or mostly Geo-Thermal purposes.
Killjoy at work (Must have been hot that day!)
Ground investigation work
Q: You are also among a formidable group of middle age / older Bunker
players at 46. Have you been a gamer all your life? What types of games
were you interested in when you were younger and when did you discover
Wolfenstein?
A: My first memory of an electronic game, was a calculator my dad brought home from work, that had a game on it. ( Casio MG880 .).
The numbers randomly scrolled across the screen and the object was to match them with a single number you could change, before they reached the end of the screen. After each level the game sped up. I was about 14 at the time and wore the buttons out

J

. I had the same fascination, but not the money, for the Arcade games Pacman, Space-Invaders and a firm favourite "Gauntlet."
I next became obsessed with my Sega-Megadrive and Sonic became a close friend

J

I discovered PC games long before I had the ability to play them on-line and played RTCW ( Which I initially borrowed from my Brother-in-law) inside out. I dabbled in the on-line RTCW but stumbled across ET, when he eventually asked for his copy back. The Second hand replacement I bought, had an ET attachment to RTCW.
Q: You became a Bunker member in early 2007. You claim Bunker 2 as your
home server. Why... is it just the European connection and low ping?
A: I'm ashamed to admit that I joined Bunker initially to ask for an Unban. At the time Bunker 1 was one of the few Servers still active during the antisocial times I was able to play. It may be hard to believe now but, more often than not, it was so active, I would invariably get booted over to Bunker 2, which became my main Server. If my memory serves me correctly, B1 had no XP save whereas B2 did. I'm still slightly awestruck, that I can play an interactive game, with somebody who lives half way around the world and luckily my Ping has never been much of an issue ( To me anyway ) on the American servers.
Q: We all have reasons why we love this game so much and many of them
are the same. What are yours?
A: If we get away from my obviously compulsive tendencies, I have found the multi-layered complexities of ET endlessly engaging and of course the real challenge and intrigue of the game derives from the fact that I'm in an endless game of Cat and Mouse, Chess like strategy and double guessing with others of an equally devious character. In other words, its all of you guys and girls that make this game great.
Q: What player classes do you like the best and do you have any you
rarely play?
A: Invariably I seem to have favourite classes according to the particular map. Soldier mortaring on Goldrush, panzer on Darji, sneaky covert on many maps but I only ever seem to end up playing medic on the Beer Run. I started off my ET career playing endlessly as a (normally defending) Axis, but now invariably prefer to play an attacking role as an Allied Engineer, which I find most challenging and rewarding.
Q: What are your favorite maps and did you enjoy my interview with Marko
from MLB mappers?
A: I can't say I have any firm favourites, they all have there own idiosyncratic attractions. Although I love some of the Epic large Maps, like the Tolkien themed maps, without the appropriate large amount of players, they always seems to come down to a one sided slug-fest over the End, where the attackers have mountains of time to finish. MLB's maps like Daybreak, Egypt, Temple and Hotchkiss are a role call of ET classics and I can't even begin to imagine the time, skill and General wizard-like jiggery pokery that went into creating them.
Q: Any ideas for future interviews or special reports for The Bunker Times?
A: I'm quite attached ( despite my very real musical limitations) to my Musical instruments, maybe you could do a feature on different members own personnel instruments.
Washburn hollow body electric guitar
1920's mandolin banjo
Q: Do you have any hobbies or interests, including sports, other than
playing Wolfenstein you'd like to share?
A: Rugby was a big part of my life for many years (
http://www.esherrugby.com/
)but I gave up playing for my club at about 40

L

Although I don't participate in any organised sport any more, I'm a fair weather cyclist, who plods the 6 miles to my companies yard and find the physicality of my work more than enough exercise.
Can you spot Killjoy? My guess is back row, second from the right
.
Like my dad,I'm an active Allotmenteer. I also enjoy seasonal Mycology hunts, playing my guitar or new ( to me ) Mandolin-Banjo. I love the odd excursion to an art gallery (Art Deco, Art Nouveau and the Pre Raphaelites are particular favourites) have a nerdish love of Sci-Fi and Fantasy movies, books and comics ( A collector of 2000AD ---
http://www.2000adonline.com/
) Enjoy art, history, science and nature documentary shows and books. I also love chimneys, Origami, blinking and have been an active member, since 1995, of The Berkhampstead Lodge of Freemasons No504,which was founded in 1845.
Q: What does your life's partner and friends think of your
attraction to Wolfenstein?
A: I was obsessed/possessed by the bug from the start and although it has earned me
my fair share of disparaging recrimination over the years, my relationship has reach the stage of mutual resignation in this and many other matters

J

In the past, I was always somewhat hesitant in admitting my self- perceived, childish affection for "Gaming". Nowadays it seems to be a common and socially acceptable pastime, that on occasions I've even felt quite boastfully proud to participate in. Most likely thou, I'm now old and cantankerous enough, not to give a flying fig tree what anybody thinks of my simple and harmless pleasure.
Q: When do you play and do you think you play too much?
A: Of late I seem to dip in and out in the evenings and weekends, making every effort to attend the Parties, which are fantastic. I certainly don't have the time to play, half as much as I used to and if you do find me playing on B1 during the week, Please tell me to pack it in and go to Bed, It would mean I was foolishly trying, to get by on 4 hours sleep.
Q: Do you play any of the other games offered by aaxxss.bunker.com?
(Balance, Minecraft, ibProBattle, arcade)
A: The Arcade and ibProbattle, have proven to be a great distraction, inbetween flitting around the WEB, food, a newspaper, the radio, a good book and family.
Q: What kind / kinds of vehicles do you own (if any) and if you could
have any vehicle, what would it be.
A: I'm the proudly underwhelmed owner of a Citroen Xsara Picasso, the most utilitarian car ever to dis-grace the road. I'm not much of a Petrol-head, but my Idea of the perfect modern car would be the understated and anonymous fury of the Audi A8 W12.(
http://www.audi.co.u...w12/engine.html
)I have also developed an unhealthy desire to commute to my workplace by Motorbike and have become intrigued by the possibility of purchasing either an ex-British Army, Harley Davidson MT 350E (
http://eshop.lmslich...-Davidson-MT350
) or a German built diesel bike based on the Royal Enfield, the Sommer 462.
http://www.motorradmanufaktur.de/
)
Q: Do you travel much? (where, why, and how)
A: At the moment most of my travelling is in and around the UK as part of my work, although at the moment, I'm spending an unwelcome amount of time travelling in and out of London based jobs. ( I have only recently begun to fully realise just how Beautifully picturesque parts of the UK are, but similarily , just how grim some of it is as well ) I've been fortunate though Work, Rugby and Leisure to has seen a fair bit of the world and surprise myself, in that I've visited Spain, Portugal, France, Belgium, The Netherlands, Italy, Morocco, Dubai, America, Panama, Hawaii, Japan, Chile, Brazil, Argentina and Scotland.
Q: Besides playing Wolfenstein, do you have any other favourite ways to
relax, kill time (brain cells), or otherwise spend an evening / weekend?
A. Sleeping, Blinking, Burping, Farting, Eating and drinking a nice cup of Rosy lee. Not necessarily in that order.
Q: What is the significance of your profile photo?
A: Believe it or not, without having even the remotest ounce of xenophobia in my blood, as well as being proud to be part of Europe ( I like most people, am a bit of a Mongrel ) I'm very proud to be British but especially proud to be English. My profile picture is a play on the default profile picture, spliced with the three lions found on the Royal Standard Flag of England.
Recent photo, taken in November 2012
Q: Why did you choose the name "killjoy?"
A: I'm already on record as saying that everybody seemed to be "Kill" this, that or the other at the time I started playing, but it also seemed to fit in with my "Spoiling" tactics at the time. I still enjoy sneaking behind the lines, to spoil the odd Mortar spree now and then. I adopted the additional Moniker of "ollocks" before I got my |>B<| tag, in the knowledge that, if I was ever fortunate enough to be given the honour, it would for me, give an amusing and very English reading of the name.
Q: What, if anything, would you change about Wolfenstein?
A: In my opinion, even if the game had COD like hyper-realistic graphics it would not necessarily improve the "Game-play" which from my experience is outstanding. It Strikes the perfect balance between the frenetic action of COD-like FP Shooter games and more sedate cerebral games like WOW. If a FPS could combine the latest graphics with ET's game play and thanks to the likes of MLB, its infinitely varied Maps it would be a real World beater.
Q: Any constructive comments about the Bunker Community?
A: I hope that even if ET as a game, becomes untenable, that the Bunker Community can live on as a Portal for Like and Fair minded Gamers to meet and chew the Cud, whatever the latest trend or Fad in gaming might become.
Q: Any final comments or revelations about yourself I didn't ask about?
A: I would support that, if I was fortunate enough to meet any of you, my most noteworthy physical characteristic is that I'm relatively tall 6'6" (2m for the Europeans) Whereas my most noteworthy character flaw, is my total inability to refrain from relentless sarcastic and ironic teasing. I would consider myself a totally incompetent Polymath, a Jack of all trades and Master of none who has often wondered if it would be desireable, to have been ignorant enough, to become truly blissful. Thankfully ET has provided me many moments of Gaming Bliss in recompense.
Spike, Killjoy's latest "rescue" dog pet
Edited by Snoid, 29 January 2013 - 04:29 AM.