March 2013
Community News & Information Vol. 109
Written, edited and published by:Snoid
Regular contributor:Bean
Staff writer:Position Open
- Community Statistics -
Total Posts: 290,865
Total Members: 4,593
Newest Member: Teddienripse
Most Online: 152
Spammers Stopped: 11896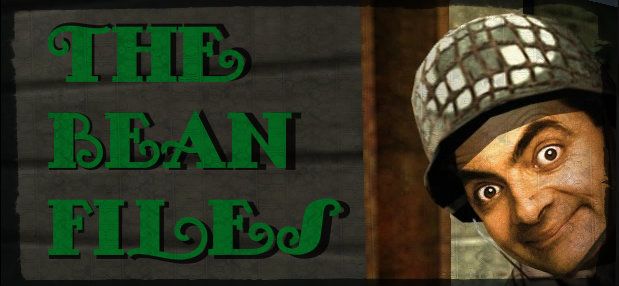 The Real Caen
Welcome to this month's edition of The Bean Files – a Bunker Times column that examines the history and technology behind Wolfenstein: EnemyTerritory.
One of the more popular maps in Wolfenstein: EnemyTerritory is "Caen." In this map, the Axis attack a town defended by the Allies. They must capture a spawn, repair a Jagdpanzer tank, which they use to break into a building containing secret documents. They must steal the documents and bring them to a boat in order to achieve victory. The Allies, on the other hand, must defend the spawn, stop the tank, and defend the documents.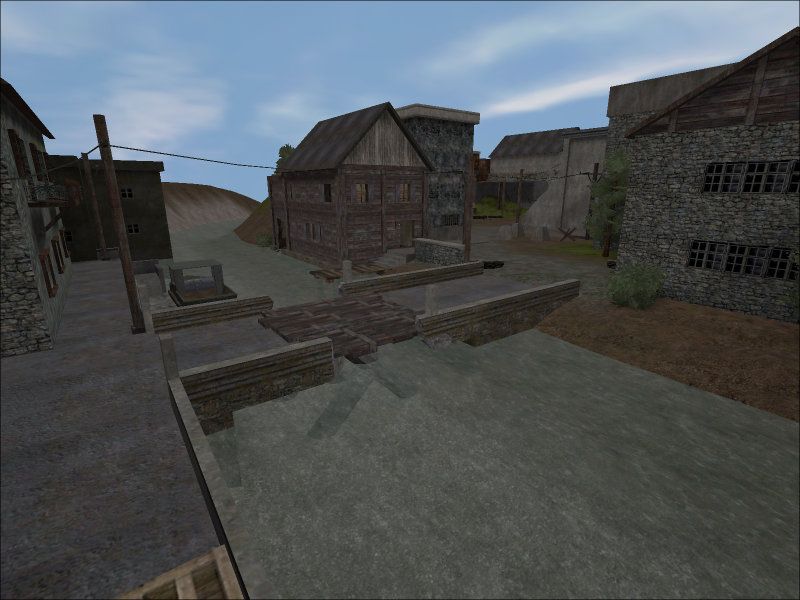 Caen is a town in France, just south of the British and Canadian beaches in Normandy. It was a key Allied objective after the Normandy invasion in 1944, mainly because it was a chief administrative centre for the region, and because it was a main junction for rail, road and canal transportation networks. It's located on the River Orne.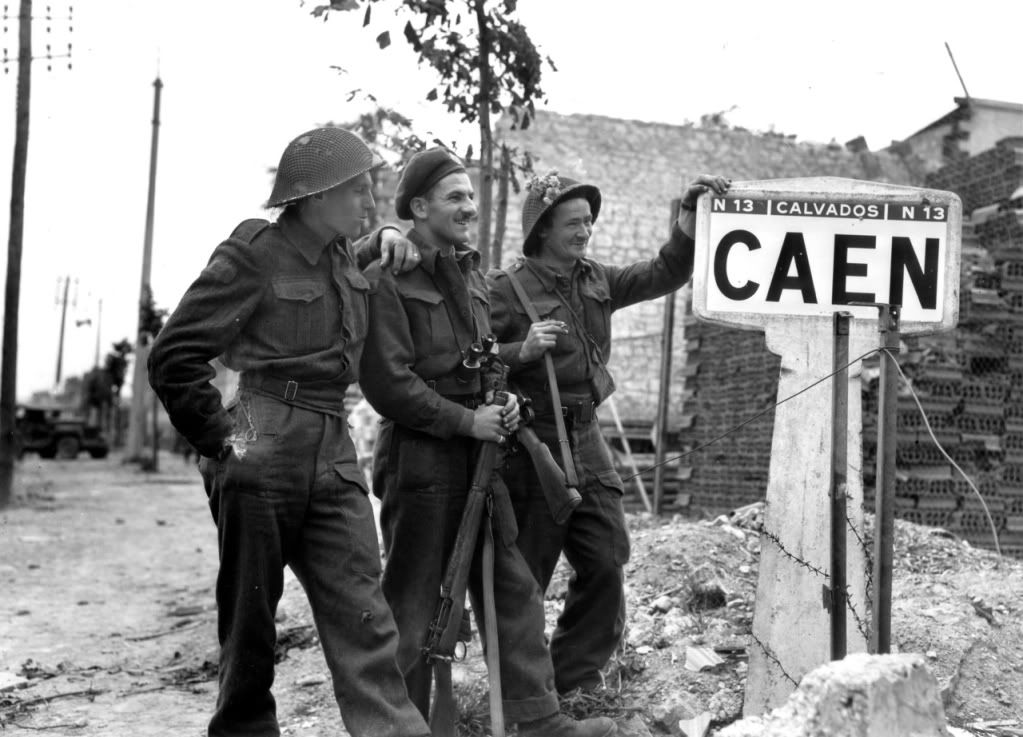 Caen was in the British and Canadian sector of the Normandy breakout area. After making significant gains in the early going, this sector's advance slowed as it approached Caen. A good example of this lack of progress: The engagement at Villers-Bocage, outside of Caen, where German tank ace Michael Wittman and his Tiger tank stopped an entire Allied armoured division nearly single-handedly.
The Germans were finally ousted from Caen, after a massive bombing campaign and an infantry and armour attack, on July 9, 1944. The British and Canadian suffered heavy casualties in taking the town, much of which was reduced to rubble due to the artillery and bombing that preceded the battle, and the heavy fighting during the battle itself.
The odd thing about the Caen map in Wolfenstein: EnemyTerritory is that the Axis are on the attack. As noted above, the town was subject to a major Allied attack. Even so, German counter attacks occurred all over the western front during the summer of 1944 and beyond. I suppose this Caen map can be considered as one of these Axis counterattacks.
Below is a selection of photographs of the real Caen, both during and after its capture by the Allies. The first few show Allied infantry attacking and digging-in to hold their gains.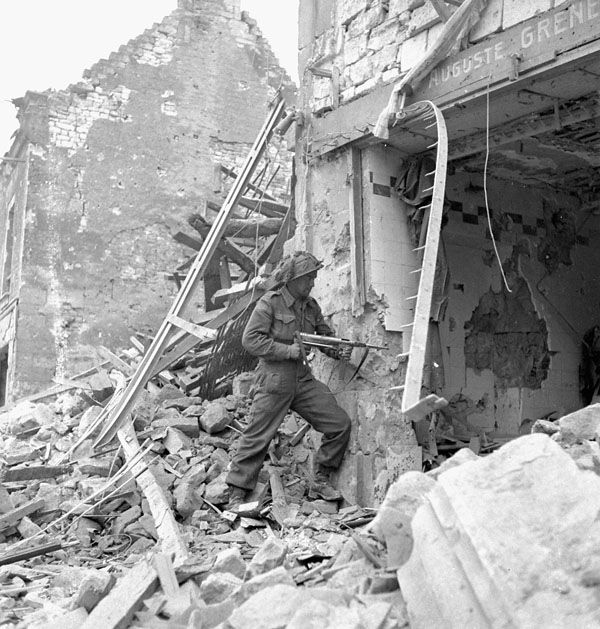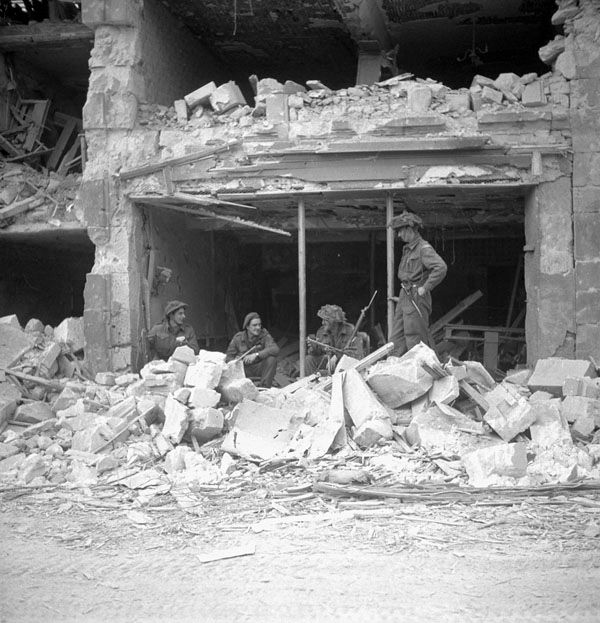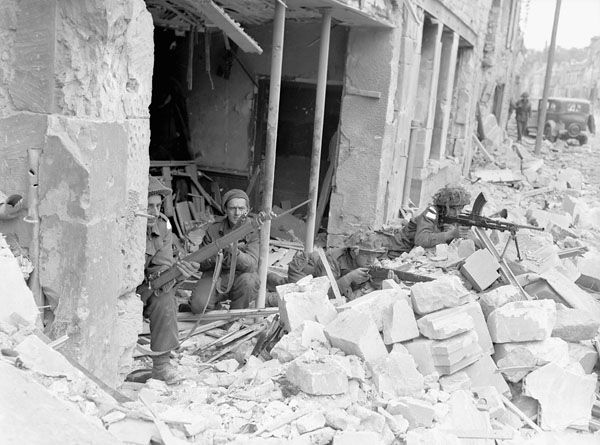 With Caen taken, more infantry, tanks and trucks enter the urban area.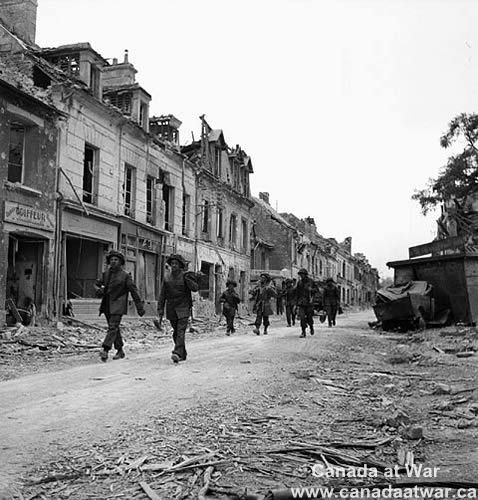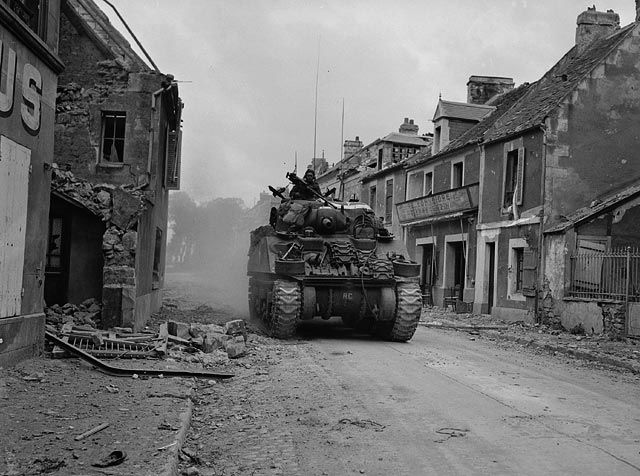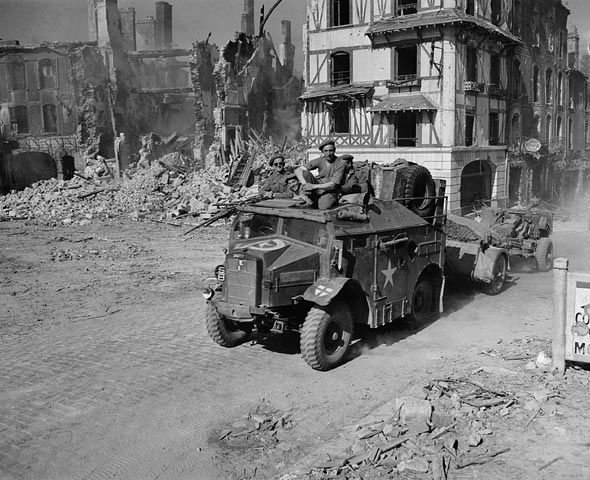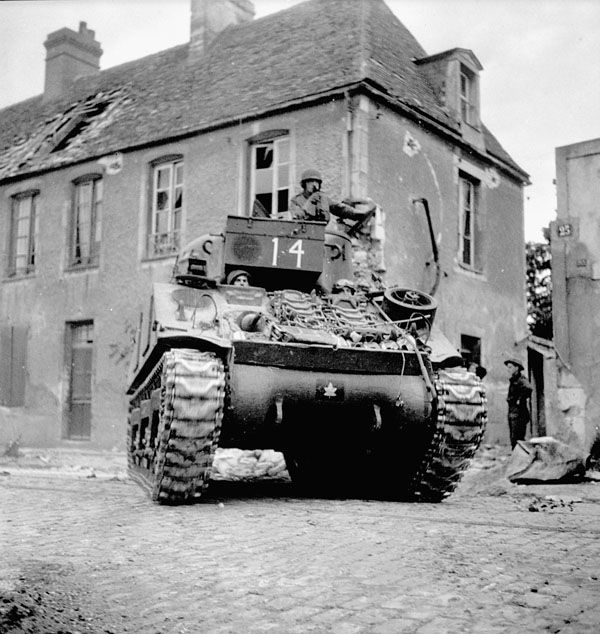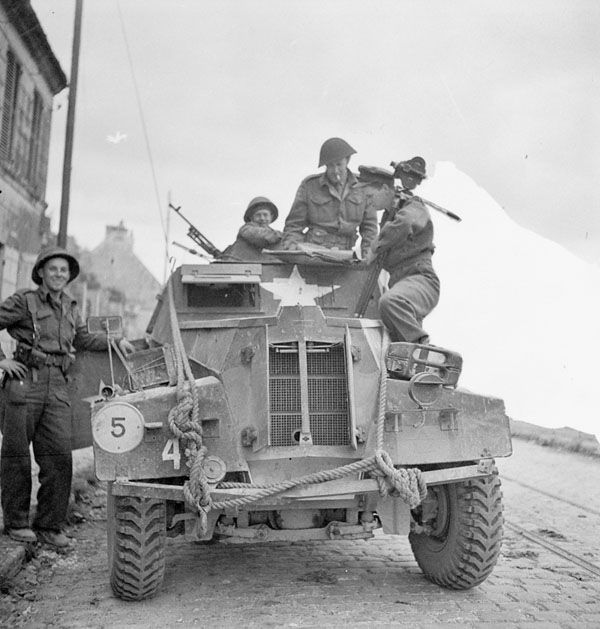 The victorious Allied troops relaxing and interacting with the locals.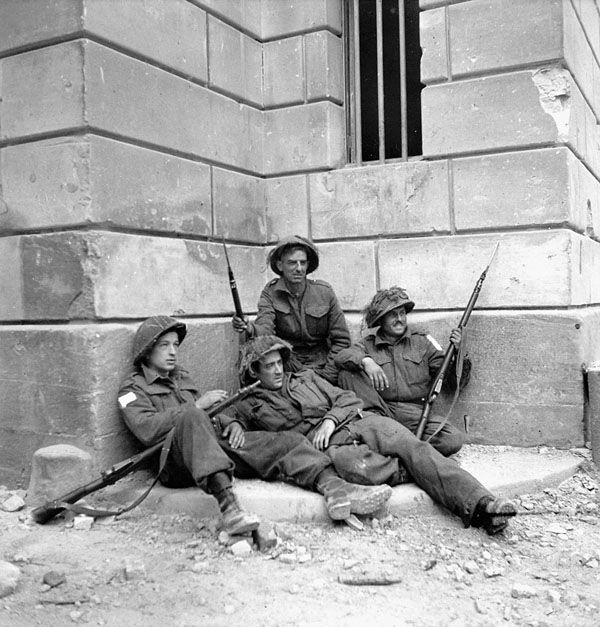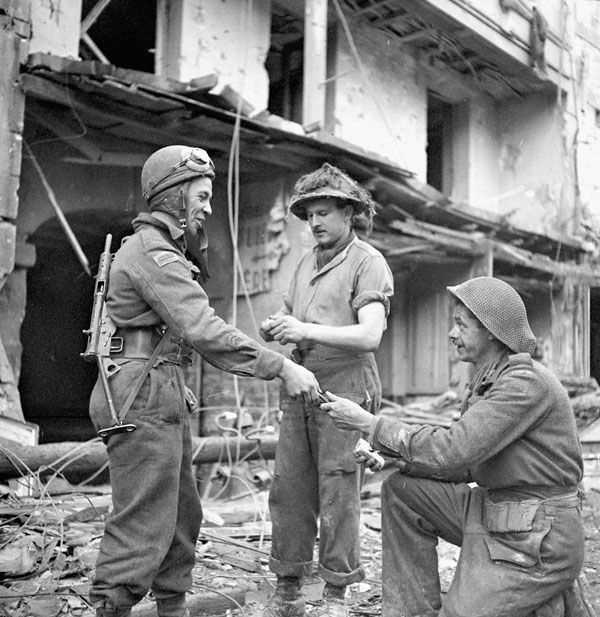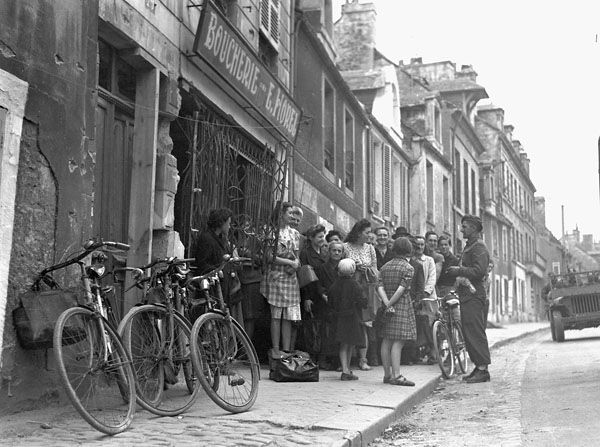 The photo credits for the illustrations used in this article: Library and Archives Canada, Ottawa.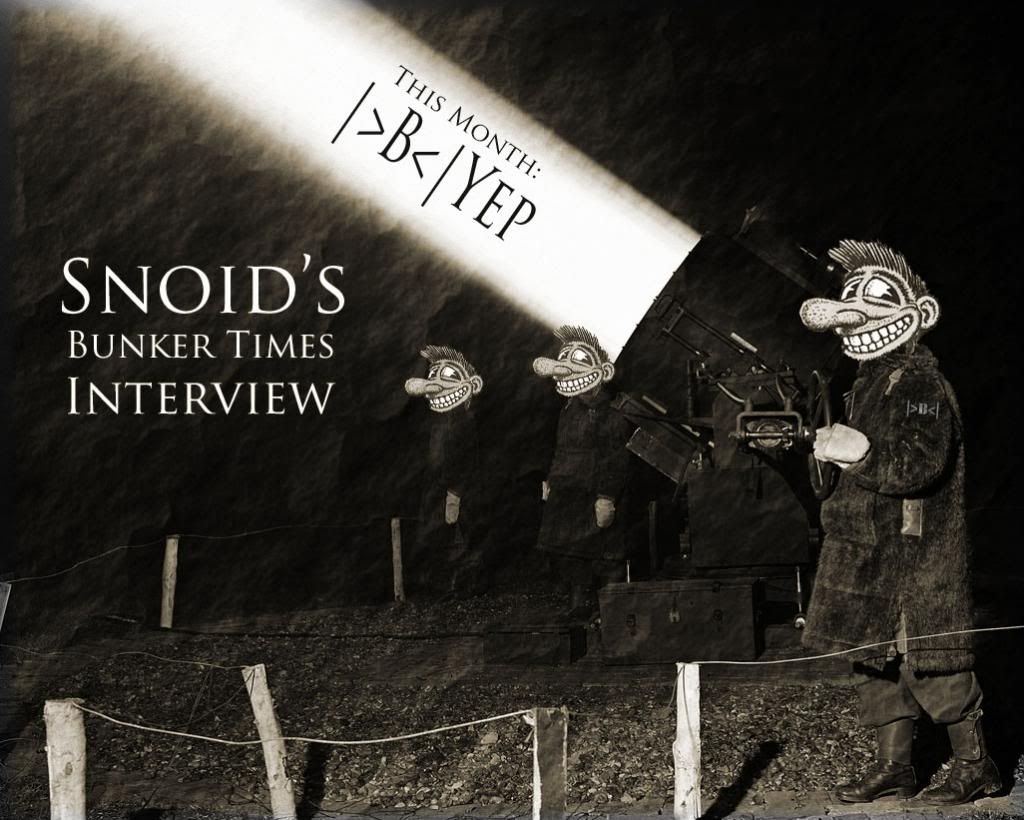 Q: Where do you live and why do you live there?
A: My name is Pascal. I'm 39 and I live in a small village called Zwankendamme which is part of Bruges. It's 5 minutes from the Belgian coast. I live there because it's close to where my wife and I work. It's 10 minutes from where I work and 15 minutes from where my wife works.
Q: Where do you work and what do you do?
A: I work in Duinse Polders.
It's the sort of hotel where you can book as a family but you can also book as a group to hold a conference or meeting, more than 300 people can stay. I don't know the exact name in English for my job
(Supplier)
but I buy most of the stuff that is needed in the hotel, the food, drinks, cleaning materials etc., and when restaurant cafeteria etc. needs materials I bring them.
Q: Do enjoy your work?
A: Yes, most of the time no stress and I have a good boss.
Q: Are you married with children?
A: I've been married for almost 9 years to my wife, Sabrina. We do not have any kids.
Q: Do you own a home or do you rent your living space?
A: I own a home, and it will be paid off in 7 years.
Q: Do you own any vehicles and if yes, what are they?
A: We have a Citroen C2 and a Citroen Saxo. Why citroen? My dad worked as a mechanic at Citroen. (he retired this year) and it's handy when something is broken, I just have to call my dad.
If money was not an issue I would buy an Audi R8, after all these years for me this is still one of the best looking sports cars.
Q: Do you have any hobbies you'd like to tell us about?
A: One of my hobbies is watching movies. I have a home cinema with B&W speakers.
There is nothing better than watching a movie with a strong beer and something to eat.
I'm also a big fan of Formula One racing. I cant wait for the first race of the year in Melbourne on Sunday March 17. Although I'm a Mclaren fan, I still believe that the best looking F1 car of all time is the 1991 Ferrari driven by Alain Prost.
Q: When did you first learn about Wolfenstein ET and how did you
discover the Bunker Community?
A: I tried it when it was released and didn't think it would be something for me. I even couldn't find a name so I took the first thing that came in my mind, "yep." Now I'm still playing with that name. Sometimes I use the name, "Duvel." That's mostly when I've had some !fun beer. I think this year is the 10th anniversary of the game. Wow time goes fast
.
How did I get to know bunker? Well the server I played first, was dying a bit, so I followed the tracks of another player from that server on splatterladder and that led me to B4. (there I got to know some crazy admin). I think he stopped playing. I haven't seen him around anymore. His name was at that time **wolf-1945**
Q: What did you like about the game when you first started playing?
A: At the time of release, I would say the graphics, and it's a free online game. The game-play is also very good.
Q: What is it about the game that keeps you interested in it even
though there are a lot of newer games to play?
A: I have played other games in the past but I always returned to ET so I gave up on trying other games. Maybe its not just the game itself. After all those years playing on B4 you get to know the other players and you can have good crazy and funny nights playing at B4 !fun smell
Q: What is your favorite Bunker server and do you play on any other
servers?
A:I play on B4 most of the time. I don't play that much anymore, so I stick to B4.
Q: What is your favorite class when you're playing ET?
A: In the beginning I liked playing as a field ops but now these days I don't have a preference. I try to fill in the blanks where I'm needed
.
Q: Do you play any of the other games offered by the Bunker server?
(arcade, ibProBattle)
A: Yes, now and then arcade and on a daily basis I play ibProBattle. Why? It only takes a few moments of your time and it can be fun, by the time you people get to read this some player will have passed me, grrr damn you G0rt.
J
Q: What are your favorite maps? Are they the big maps, the smaller
ones, or the ones in between?
A: Of the big maps, I like Daybreak. It's real fun when there are a lot of players. For the rest, I don't really have a favorite. I like playing most of the maps.
Q: Do you travel much and if yes, where do you like to go?
A: I like the Greek Islands. I try to go there every 2, 3 years. Nice people and the weather is great most of the time. Here's a pic a took from a sunset in corfu a couple years ago.
It was taken on our last night there.
Q: What would a perfect meal consist of? (Main course, drink, and dessert)
A: I like food in general but 1 of my favourite meals is pizza from a local pizzahouse with lots of cheddar and mozarella.
People in Texas might call this a xx small pizza
along with a beer and an ice cream

.
Q: Have you met any other Bunker members? If yes, who and where did
you meet?
A: Well, actually I know 2 players very well. I see superperforator(aka lolly) and splinter almost every day because we are workmates.
Q: Do you have any goals in life that you're working toward?
A: Not really, just doing the things like most... going to work almost every day and trying to have fun as much as I can in my spare time.
Q: If you were given the opportunity to anything you wanted to do...
what would it be?
A: That's a tough one. I've been thinking about this and I cant really think of anything. Maybe because I'm happy in the situation I'm in.
Q: The Bunker Community has changed over the years to accommodate its
membership and changes in the gaming world. Are there any suggestions
you have to help us keep the community active and happy?
A: Things are going well I believe so I would say don't change anything that runs good.
Thanks Pascal (Yep) for letting the Bunker Community get to know you better.
Edited by Snoid, 27 February 2013 - 05:33 AM.