May 2013
Community News & Information Vol. 111
Written, edited and published by:Snoid
Regular contributor:Bean
Staff writer:Position Open
- Community Statistics -
Total Posts: 292,233
Total Members: 4,608
Newest Member: Ronedunk
Most Online: 152
Spammers Stopped: 17,494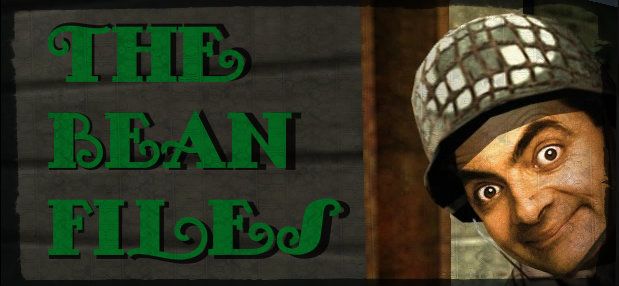 "FIRE FOR EFFECT!" - The Real Field Ops of World War II
In Wolfenstein: Enemy Territory, the Field Ops class performs numerous tasks. In addition to fighting the enemy in direct combat, Field Ops dispense ammunition, call-in airstrikes, and direct artillery bombardments. In this month's edition of The Bean Files, we examine how artillery was handled by the real Field Ops of World War II.
First off, in most World War II armies, the guy who directed artillery bombardments was called a "Forward Observation Officer" or FOO. They were not fighting men; their sole role in the field of battle was technical and indirect, as described below.
Your typical FOO was burdened with extra equipment, which was essential for him to perform his duty: Maps, extra radios, and a variety of binoculars or other optical aids. These were his tools of war. They could not, by themselves, inflict damage on the enemy. But in combination with batteries of artillery behind the front lines, they could be devastating. Below are a couple of FOOs posing for the camera.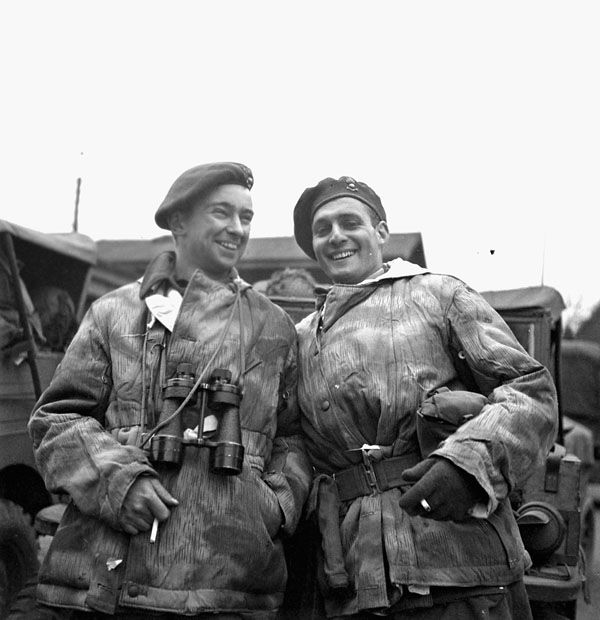 FOOs operated from an Observation Post (OP). This could take the form of a dugout, shell crater, ditch, patch of trees and bushes, or a ruined building. From these OPs, they observed the front lines or enemy positions. It was a very dangerous activity, given the prevalence of enemy snipers and enemy FOOs. When in an OP, they would often drape their heads with camouflage netting before poking their heads up for a sneak peak at potential target areas. Out in the countryside, they would use natural cover to make themselves inconspicuous, like in the two photos below.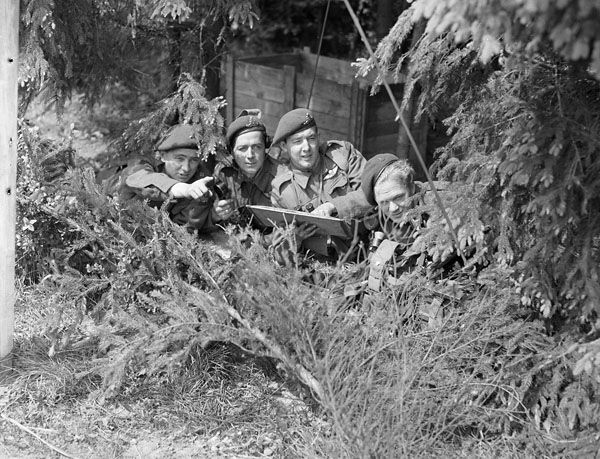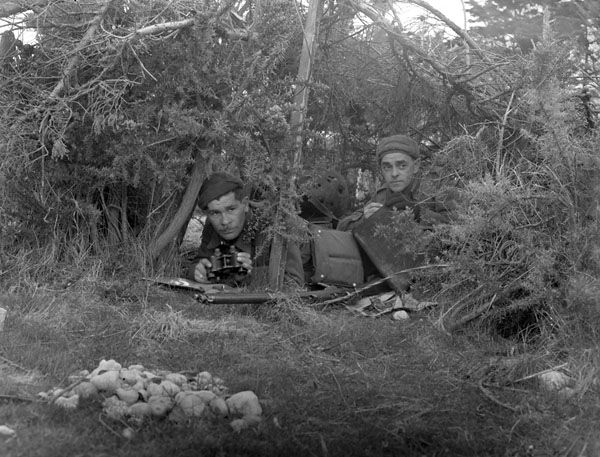 Most often, dugouts were the natural habitat of the FOO. Similar to regular soldiers' foxholes, a dugout OP was larger to make room for the maps and related equipment. Below are a few more examples of this type of OP.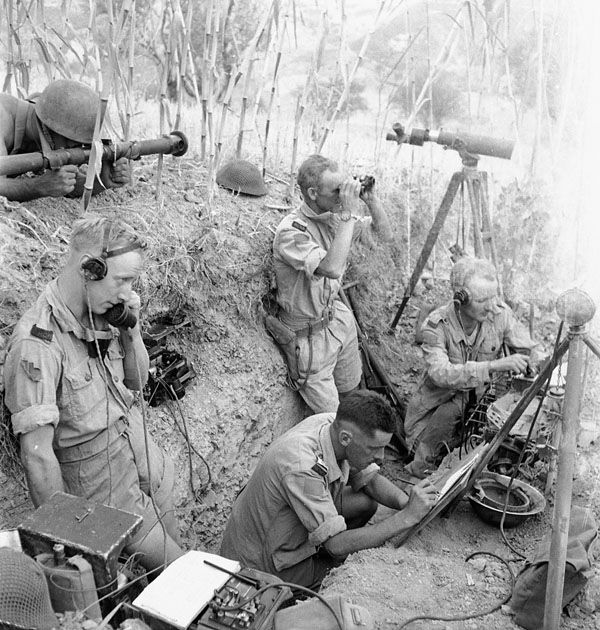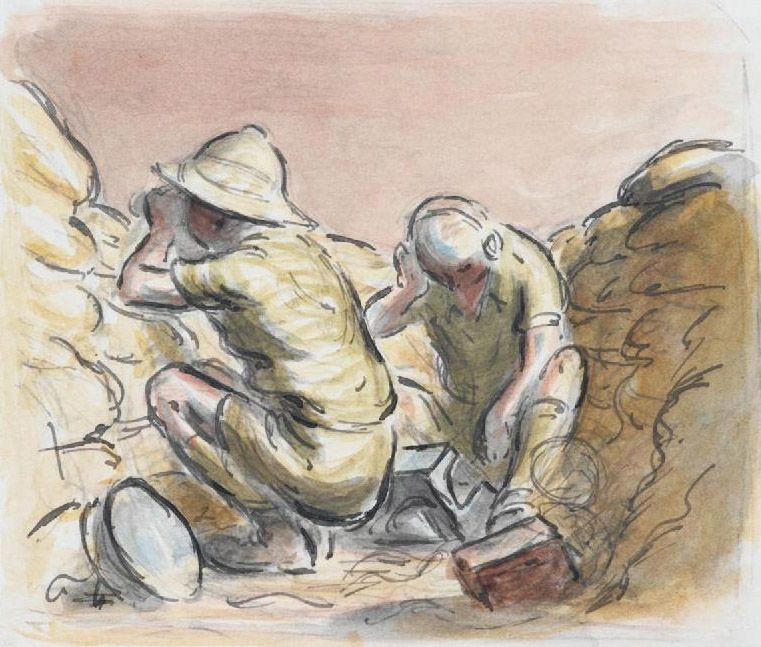 Using paper maps, they determined the reasonably-accurate coordinates of a target. Then, they used radios to issue fire instructions to the artillery batteries. Often these radios and their power sources were too big to be taken to the OP. Instead, the radios stayed in a small all-terrain vehicle like a Jeep or Universal Carrier (in the case of Allied FOOs). Long wires connected the FOO with the radio. Enemy bombardments frequently cut the wires, which required the FOO or his assistant to make repairs – sometimes under fire.
Due to the difficulty in accurately directing World War II artillery from such long distances, a FOO first ordered his guns to fire a few spotting rounds. The FOO observed where these fell and make slight corrections. When satisfied with the accuracy, he issued the order "Fire for Effect," which unleashed a heavy bombardment.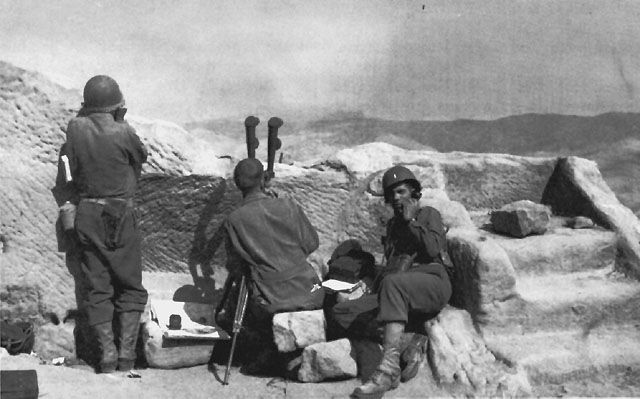 FOOs could vary the intensity of the bombardment depending on the nature of the target. He could specify the number of guns and the number of rounds. The higher priority of the target, the more guns and rounds. The FOO could also call for smoke rounds, instead of the usual high explosive, to create a smoke screen. This was useful to cover a friendly retreat.
In defending against enemy attacks, sometimes a FOO called down a bombardment intentionally on his own friendly defensive positions. The theory here was that an attacking enemy in that vicinity would be above ground, exposed and therefore extremely vulnerable to the exploding artillery rounds. The friendly troops, however, would be relatively safe in entrenchments. Think about that the next time you are team-killed by friendly artillery fire. It was probably your own fault: You failed to take cover!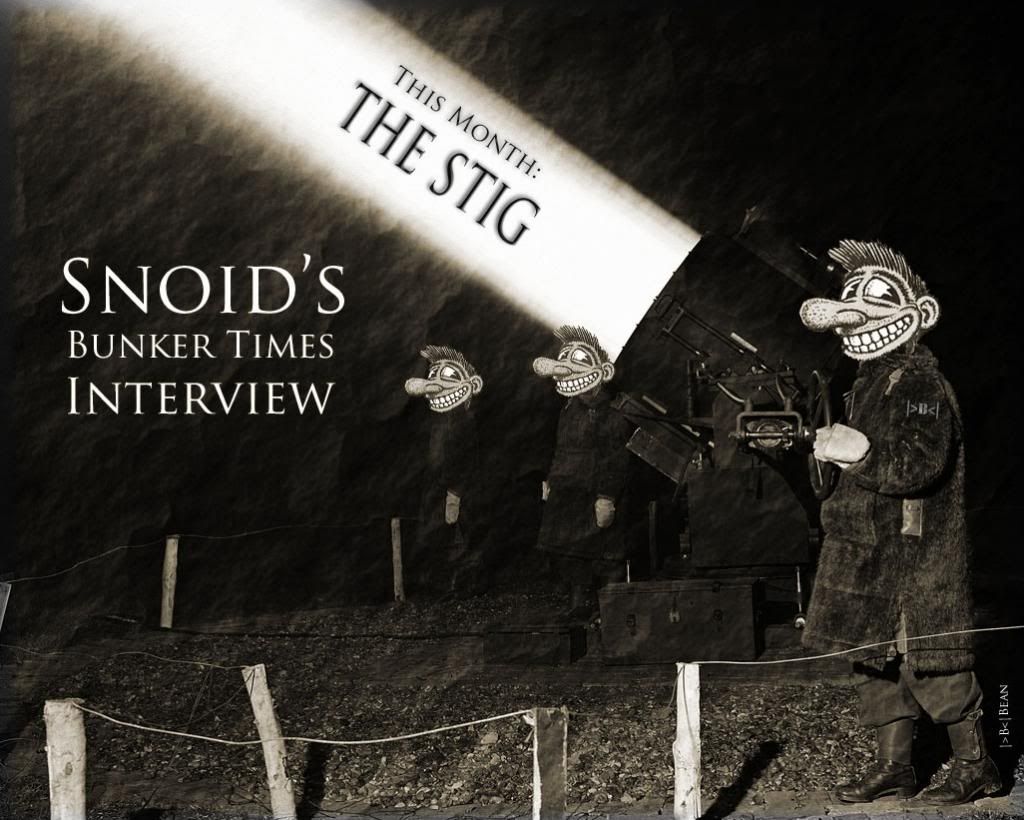 Q: Let's start with a brief introduction. Who are you, what is your
age, and where do you live?
A: My name is Pieter, I'm 23 years old and I live in the beautiful city of Leiden in the Netherlands.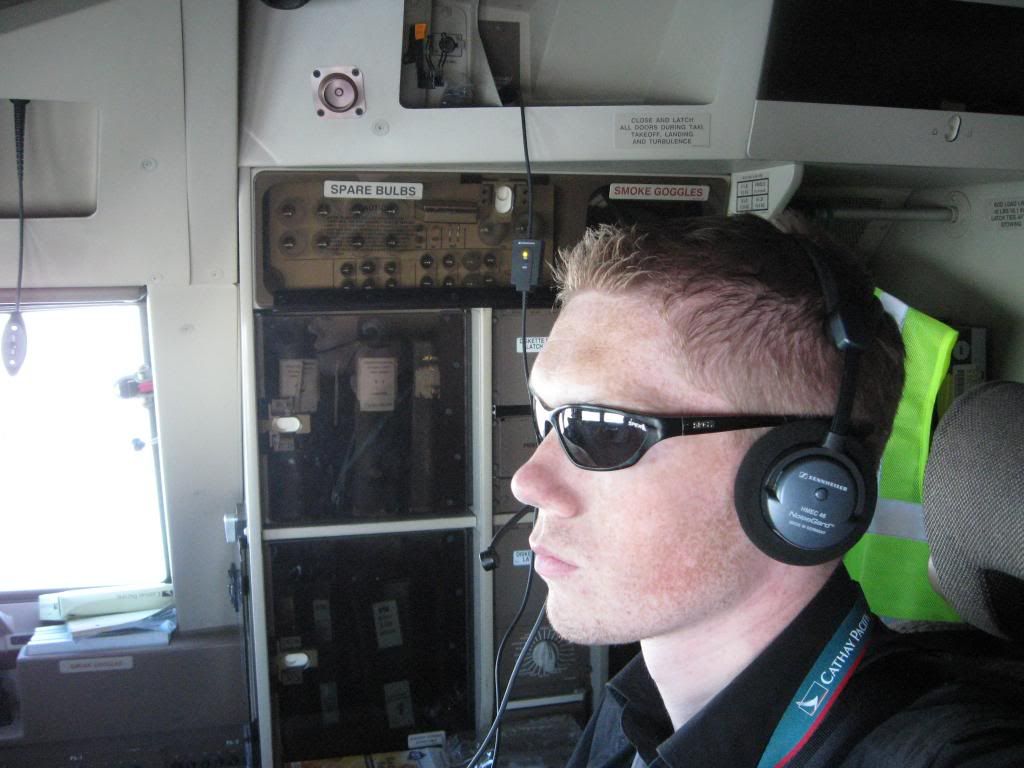 This is a picture I made while sitting in the cockpit on my way from Amsterdam via Dubai to Hong Kong by freighter flight (Boeing 747-400ERF).
Q: We all know you as thestig. I Googled it and came up with the name of
a race car driver. Who is the Stig and why did you choose that name?

A: The Stig is a test driver in the TV show called Top Gear. Who he is is a secret. (I still don't believe that it's Michael Schumacher as once revealed in the show) I chose the name because when I was 14 I couldn't think of a name that I liked to use online. So a few days later I was watching Top Gear and saw The Stig driving one of the cars and then it hit me. Let's steal that name and use it!
Q Where do you work and why?
A: At this time I work for Cathay Pacific Airways at the cargo department at Amsterdam Schiphol Airport. I work there because I love planes, airports and working in logistics means there is almost never a dull moment. I sometimes say, every day you do the same job, but every day it's different.
However from 1st of June I'll start working for Qatar Airways at the cargo depart also at Amsterdam Schiphol Airport.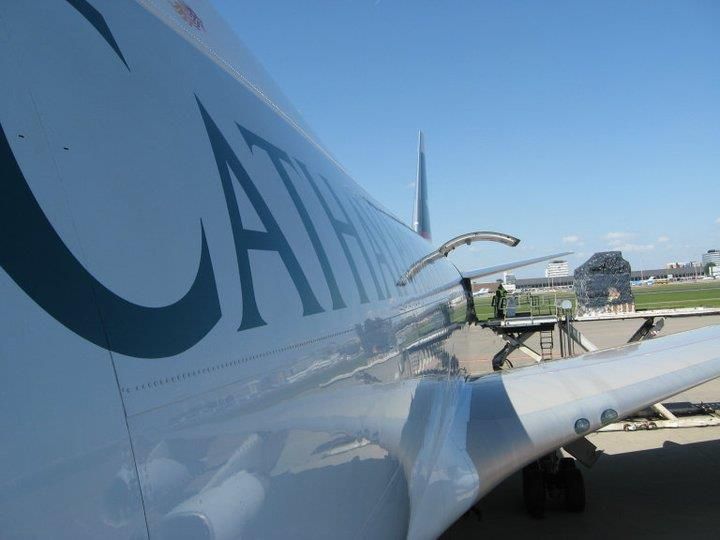 Picture of one of the freighter aircrafts while loading/unloading cargo. One of my working spots.
Q: Are you married or have a life partner?

A: I'm currently single.
Q: How and when did you learn about Wolfenstein ET?
A: When I was about 14 years old Onyx (B2 admin) showed me the game. He told me it's free to download and that we could play some ET together then. So that's how I rolled into the game and never left.
Q: Do you play other video games? If yes... name some of them.
A: I've been a gamer since I was a kid, so I play other games too. For example: Call of Duty series, Final Fantasy series (especially Final Fantasy IX is my favorite), Formula 1 games, MLB 2K13, FIFA 13, and much, much, much, much more.
Q: What is the main reason you like and play Wolfenstein ET?
A: I just love the team play and objective play, especially when you are on a server with people you got to know through the years and still get to know new people.
Q: Do you have a favorite class?
A: As some can guess my favorite class is Medic. I call myself a Rambo medic but in a different way than most people see it. I'm Rambo medic because I like to throw myself into enemy fire to revive a teammate and sacrifice myself when needed.
Q: Do you have a least favorite class?
A: My least favorite class is Soldier.
Q: What kind of maps do you like the best? Name some of your favorites.
A: I love medium sized and big sized maps like Minas Tirith and Helmsdeep. I love the detail and huge amount of work that the makers put into it. And I happen to be a big Lord of the Rings / The Hobbit fan, so especially Minas Tirith is my favorite map.
Q: Do you use teamspeak? If yes, does it help your game playing experience?
A: I've been using teamspeak again for a few months now. It can help your game play experience, but mostly it's just fun to joke around and talk with others. But while playing scrims or matches like when we used to have the |>B<|Cup it's mostly useful for the gameplay and strategies.
Q: What is your home server and what do you like about it?
A: My home server is B2. Back in the early days it used to be full daily from noon till midnight and people had to ask players in-game to kick some specs to make room. I made lots of friends on B2 and thankfully I got to meet some of the players in real life over the last several years.
Q: Do you visit other Bunker servers or servers that belong to other
communities / clans?
A: I visit B4 regularly now, since B2 is mostly empty and B4 is then mostly filled. Otherwise you can find me on B1 when the guys are playing on B1 instead of B2 or B4.

Q: The Bunker Community has been through a lot over the last 8+ years.
Do you like the changes and do you think the admins are doing a good job
keeping things fresh and interesting?
A: I've been with Bunker for years now and have experienced many changes and some of them I totally disagree with. I'm still no fan of BOTS, damage settings have changed, mods have changed which caused people to leave servers.
I think that admins are doing the best they can to keep it fun and interesting to play. Map rotations change every now and then, parties are held.
Q: Are there other things the admins should be doing?
A: Just ensuring people have fun and stick to the rules, but most important is that they have fun.
When the members and admins have fun it's mostly also shared to the other players on the servers.

Q: What do you like most about the Bunker Community?
A: The variety of nationalities and personalities of the players. It gave me (online) friends across Europe and USA. But even more, it allowed me to make new friends in real life too. Like Kusituppo (who I've visited twice now in Helsinki, Finland) and Rasium and Sniperken for example.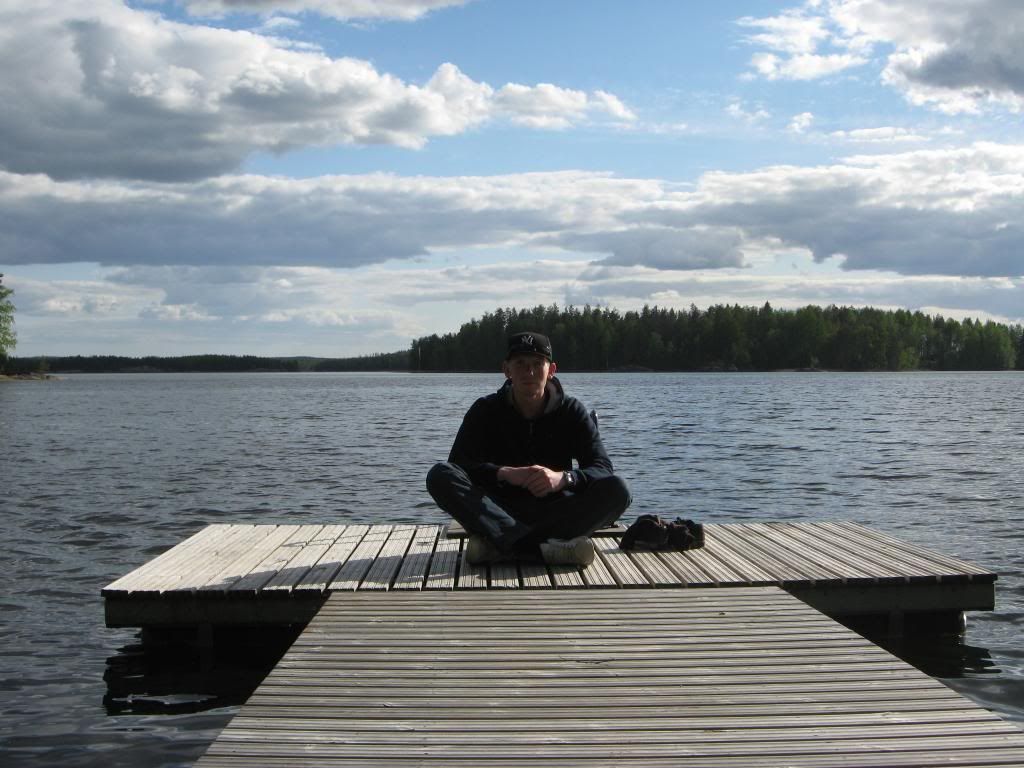 This picture was taken on my trip with |>B<|Kusituppo to his family's summer cottage near Mikkeli, Finland.

The day we arrived, after dinner we sat or stood on the dock and talked till midnight. That's a memory I'll cherish and won't forget anytime soon.
Q: What needs to be worked on?
A: The amount of players on the servers. Some say ET is dead, but when you check the top 10 servers most are full or almost full on a daily base also in the afternoons. I think that with the right mentality you can get 1 or 2 servers back to the top.
Q: Have you tried getting friends to join the Bunker Community?
A: I've tried and succeeded once, that was with Onyx. He showed me the game, I showed him |>B<|2, and we've been playing on |>B<| for about 9 years now, I guess.
Q: What kind of vehicle / vehicles do you drive?
A: I own a Seat Cordoba (2003 model) since 2010. It gave me lots of headaches in the beginning, with minor defects which caused several trips to a local garage. But now most of that is solved I get to enjoy driving it.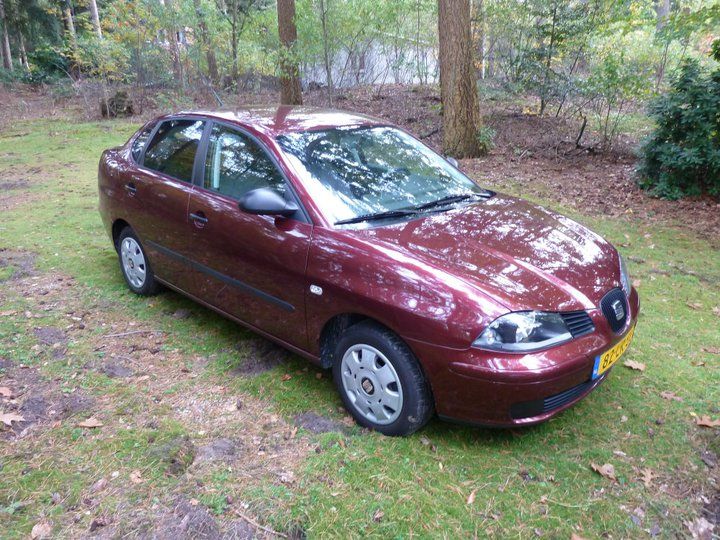 Q: Do you live near any other Bunker members?
A: I live 15min from Onyx, we live in the same city and we used to go to the same school.

Q: Do you travel much? If yes, where have you been?
A: I try to travel each year. Since I've been working for Cathay Pacific I've been able to travel to Hong Kong for trainings. I've been there 3 times now for different trainings.
Also I've been to New York City, Greece, England, Austria, Germany, Czech Republic, Belgium, Finland, Dubai (in transit while flying in the cockpit of a B747-400ERF on my way to Hong Kong for training). And soon I hope to add Doha, Qatar to the list when I start working for Qatar Airways.

Q: What do you imagine you'll be doing in 20 years? (Different job etc.)
A: In 20 years I think I'll still be working at Schiphol airport, hopefully have myself a nice house, wife and kids. In 20 years I'll still be listening to rock/metal music and playing games.
Q: Do you have any hobbies or interests you'd like to tell us about?
A: I love to play bass guitar and I play Baseball for 12 years now at a local baseball club.

Q: What kind of bass guitar do you have and do you play in a group?
A: My bass guitar is a Ibanez GSR M 20 Mikro (Candy Apple). I just play for fun in my house only, I'm not that skilled to play in a band.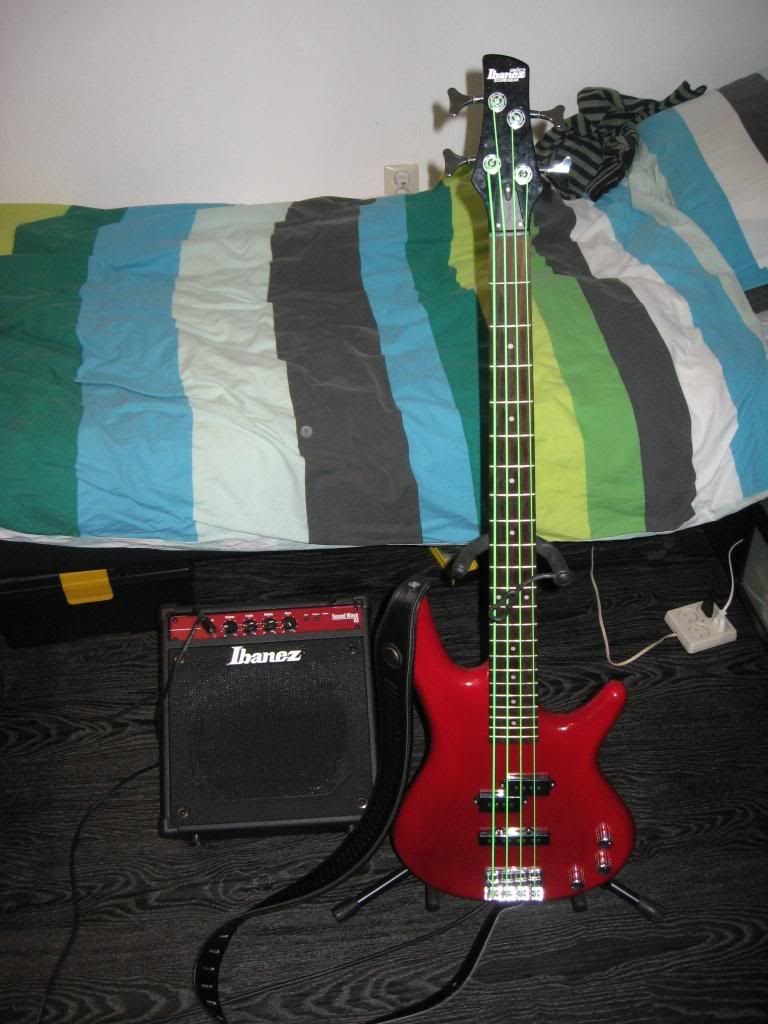 This is my bass guitar with my Ibanez Soundwave 15 amp.
Q: When did you learn about baseball? Why do you like it? I didn't
think it was played in Europe.
A: I've liked baseball since I was about 10 or 11 years old. I love baseball because it's a team sport.
For years now I play with a group of 5 others that I've known about 7 to 11 years now. We became good friends over the years, which makes it fun to play baseball with them on the team.
Baseball is getting more and more popular in Europe. The Netherlands and Italy are the best in Europe and we were World Champion in 2011. And at the last World Baseball Classic 2013 The Netherlands were in the final 4 but sadly lost against Dominican Republic.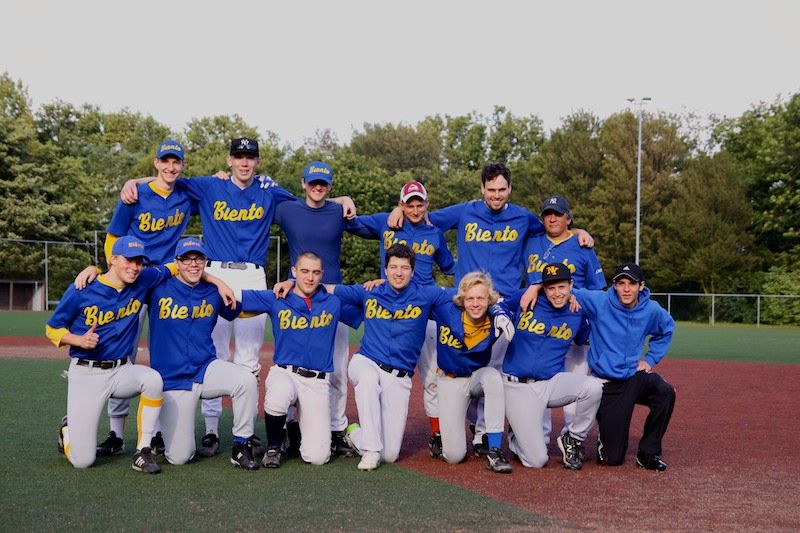 This is a picture of my team. I'm the guy in the top row, 2nd from the left with the NY Yankees cap.
This is a picture of me at bat during one of our games in 2012.
Q: If you could take a vacation anywhere in the world, where would it be
and what would you do there?
A: I'd go to the USA, rent an RV and drive through the whole country.

Q: Do you think you'll still be interested in video games when you're 60
years old? Why or why not?
A: I hope so, wouldn't it be cool to play games with your grandchildren. I can't imagine that with my own grandparents or just my parents. But I'd love it if they would.
Q: How would you describe a perfect day?
A: Standing on a field in the sun in shorts with a nice cool breeze on a summer evening watching a System of a Down or Metallica concert.
OR
Going to New York City and watching a game at Yankee Stadium with one of my best friends, who is also a teammate of mine. (I'll be doing that this summer.)
Q: Any final thoughts?
A: I'm glad that I've been able to meet some of the players in real life. I've got to know Rasium and Sniperken quite well at |>B<| BBQ's or meetings.
I've gained a great friend in Kusituppo who I've already visited twice in Finland and still talk to on a daily or weekly base via Facebook.
I've made many so called "online friends" in-game and on Teamspeak.
And I just hope that the game won't die anytime soon. May the force be with us and may |>B<| keep rocking for years.
-Bonus Interview-
With the 10 year anniversary of Wolfenstein: Enemy Territory at hand, we are giving you a chance to feel the excitement of the original game roll-out in this August 2003 interview between DarkangelUK of RTCWOnline.com and Jonathan Moses, a producer at Activision. (Thanks to Peyote for finding this!)
DarkangelUK writes "
With the immenent release of Enemy Territory on everyone's mind, I managed to pick the brains of Jonathan Moses about the very anticipated release of this free bundle of joy, and find out just what happened to the single player portion.

RTCWO: Why the sudden U-turn on ET as a stand alone retail game? It seems like a very large decision, especially this far into production. What was the main reason for this shock move?
JM: Originally, Enemy Territory was going to be an expansion pack to RtCW. Early in the development it became apparent that both the single player and multiplayer portions of the game were quite a bit different than the original RtCW game, so we decided to make it a stand-alone product. This past February we evaluated the progress and realized the single player game was not progressing as anticipated; so id and Activision decided it was in the best interest of the franchise and the fans to cancel the retail release of the product.

That was a difficult decision and we were then faced with a unique opportunity. We had an almost fully complete multiplayer game,that was a lot of fun. It has been a labor of love for Splash Damage, id, and Activision, and we couldn't see that go to waste. We decided to finish off what we had nearly complete, and release it for free to everyone – even those that don't have the original Return to Castle Wolfenstein.
RTCWO: Does dropping the single player aspect of the game mean the multiplayer side will be expanded more? More weapons, maps etc?


JM: Fans will be very happy with the amount of content we're including in the free Enemy Territory download. There are 6 maps (2 full campaigns) that are packed with great gameplay. It's quite an evolution from what Nerve did with the multiplayer for Return to Castle Wolfenstein.

We have a new terrain foliage system that let's players hide in long grass or bushes or take a sniper position from the cover of snow on the ground. We've also been able to add a ton of atmosphere by including weather effects like snow and rain during play. On the gameplay side, you can now do things like steal enemy uniforms as a Covert Ops class character, build battlefield structures and lay or diffuse mines as an Engineer, or launch mortar strikes as a soldier. One of the biggest changes is the incorporation of some role-playing elements that allows each player, over the course of a three battle (or level) campaign, to change their in-game appearance and skills through battlefield promotions. As players perform well in seven different categories including battle sense, light weapons, and class specific abilities, their skill in those areas rises, their rank increases, and they become a better warrior. We've also included some very unique and intuitive communication abilities including the ability to join and command smaller fire teams as well as interact with a dynamic battlefield map.


RTCWO: Will we see the singleplayer side of E.T. possibly being released in the future as a free download like the multiplayer side?


JM: No, I don't expect the singleplayer side of Enemy Territory will be released. We've closed that chapter.


RTCWO: Will the bots be completely removed all together from the multiplayer release?


JM: This was a tough call as the bots were really close. I had a lot of fun games against the bots... but we couldn't justify spending more time and money on a free release. As close as the bots were to being done, they were not quite ready for open play.


RTCWO: Will some of the aspects left out of E.T. single player be used in RtCW 2 such as the bots?


JM: You're pretty sly, but I am wise to your trickery. We don't have a RtCW 2 title in development at this time. We did do some great things within the Quake engine for Enemy Territory, and Activision has several other Quake engine games in development. The work done on Enemy Territory, be it technology, art, or design, may find its way into other games in development... but not in any significant way.
RTCWO: Will the E.T. source code be released so modders can have a play around with it?


JM: We will be releasing tools so that mappers can create additional maps and content. We do not expect to release the source code.


RTCWO: When will the E.T. download be available to gamers and how big can we expect it to be?


JM: We're in the final stages and expect to have the full download ready within the next several weeks. The download size will probably be around 300mb.


RTCWO: With this move, do you feel RtCW is reaching the end of its shelf life?


JM: Not at all! I'm a huge fan of the single player game and I think with the release of the Xbox and PS2 versions, people will be talking about the PC version again as well. Then of course, there is the multiplayer side with a large community and some exciting mods on the horizon. RtCW still has a lot of life in it.


RTCWO: Could this sudden move be a sign that RtCW 2 is closer than we think?


JM: No. As I mentioned earlier, we don't have a RtCW 2 title in development. We've been focused on Wolfenstein: Enemy Territory and the two console titles.
Edited by Snoid, 28 April 2013 - 07:02 PM.