August 2013
Community News & Information Vol. 114
Written, edited and published by:Snoid
Regular contributor:Bean
Staff writer:Position Open
- Community Statistics -
Total Posts: 294,188
Total Members: 4,625
Newest Member: Furqan
Most Online: 194
Spammers Stopped: 24,995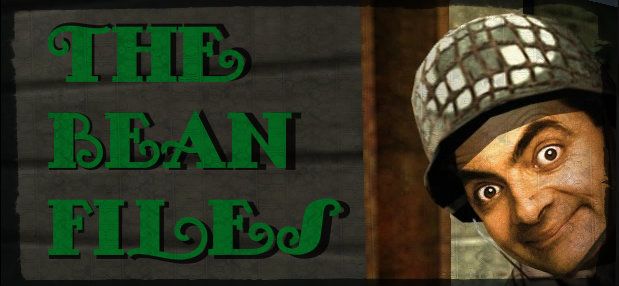 A UNIQUE VIEW OF THE BATTLE OF THE BULGE
Behold! This month's Bean Files is special in two ways: First, it's a collaboration of sorts between Bean and OntheQT, which is explained below. Second, it uses video in addition to the usual text and photos.
First off, view this video. It's a powerful excerpt from one of the best episodes from the old HBO series "Band of Brothers," which was based on actual events.
(If you don't get shivers in the last three minutes of the video, I'm sorry to inform you that you're not human.)
The video depicts fighting in and around Foy, near Bastogne (Belgium) in December 1944. The Americans were attempting to relieve besieged American forces, trapped by a massive German offensive, known as the Battle of the Bulge or Ardennes Offensive. This was one of Hitler's last ditch attempts to drive back the Allied armies from the Fatherland.
Recently, QT travelled to this region. In between quaffing pints of fine Belgian ales (research of for his new blog, www.firkinbeer.com, of course) he also visited locations connected with the battle. He shared the photos with me, to form the basis of a Bean Files article.
For the most part, the Western Allies had stormed across Europe after D-Day in the summer of 1944, liberating town after town, counting down the days until they reached Berlin. December 1944, however, saw a lull in the Western Front, while the Allies worked out supply lines for the upcoming final push. Hitler seized this opportunity, launching a major counteroffensive in a particularly weak section of the front lines. His objective was to sweep westward to capture the large port of Antwerp. This thrust would also isolate British\Canadian armies in the north from their compatriots from the United States in the south.
The German armies met with success at first, driving the Allies back except for a pocket around the town of Bastogne. This beleaguered US army held on until the German counteroffensive petered out a couple weeks later. Then the allied advance continued, relieved the Bastogne pocket, and continued their march towards Berlin.
The video first depicts the planning and the attack from a wooded area of the front. This wooded area is also featured in earlier episodes of the show. QT explains that this wooded area still exists, as shown in his photo below, but Belgians must replant the trees every 20 years. During the war, the tops of these trees were heavily damaged by shell bursts.
The church in Foy, which held the MG nest that fires at the Americans early in the attack (at about the midway point of the video) still stands. As shown below in QT's photo, the mock-up in the video is a pretty faithful reproduction of the real thing. QT mentions that the original belfry was destroyed during the war, but rebuilt afterwards.
At the end of the video, Snoid… err, I mean a generic German sniper interrupts the Americans' victory celebrations. The sniper's building is also still standing. QT photographed it, including a close-up of the sniper's window, which still shows the damage from stray shots.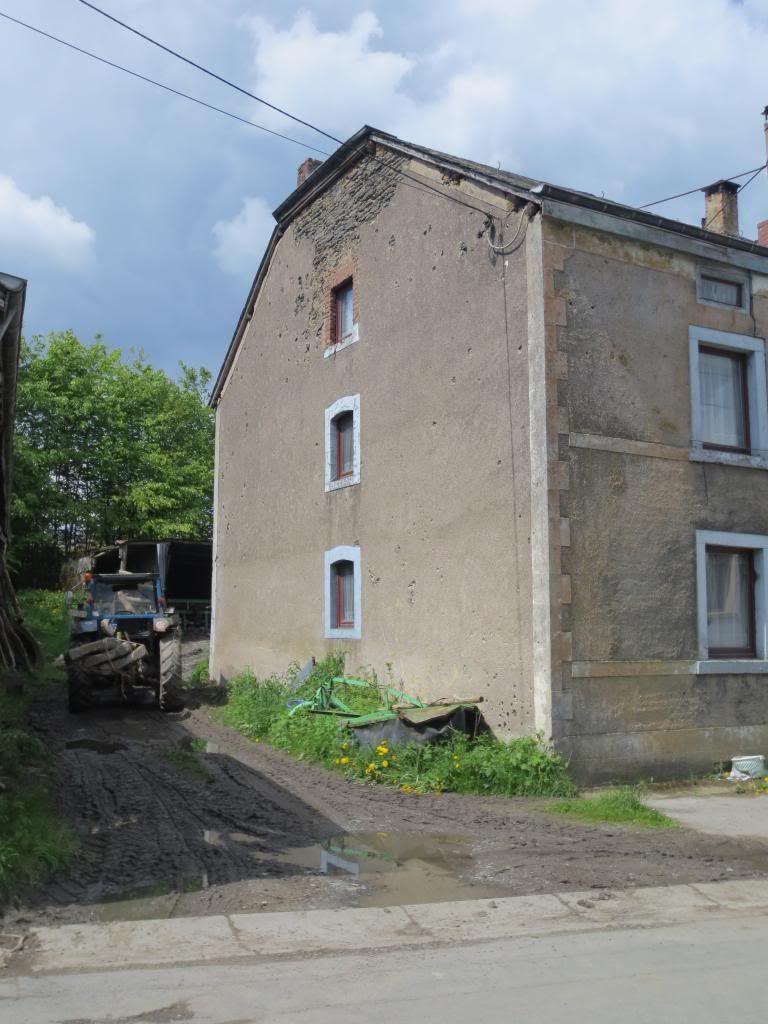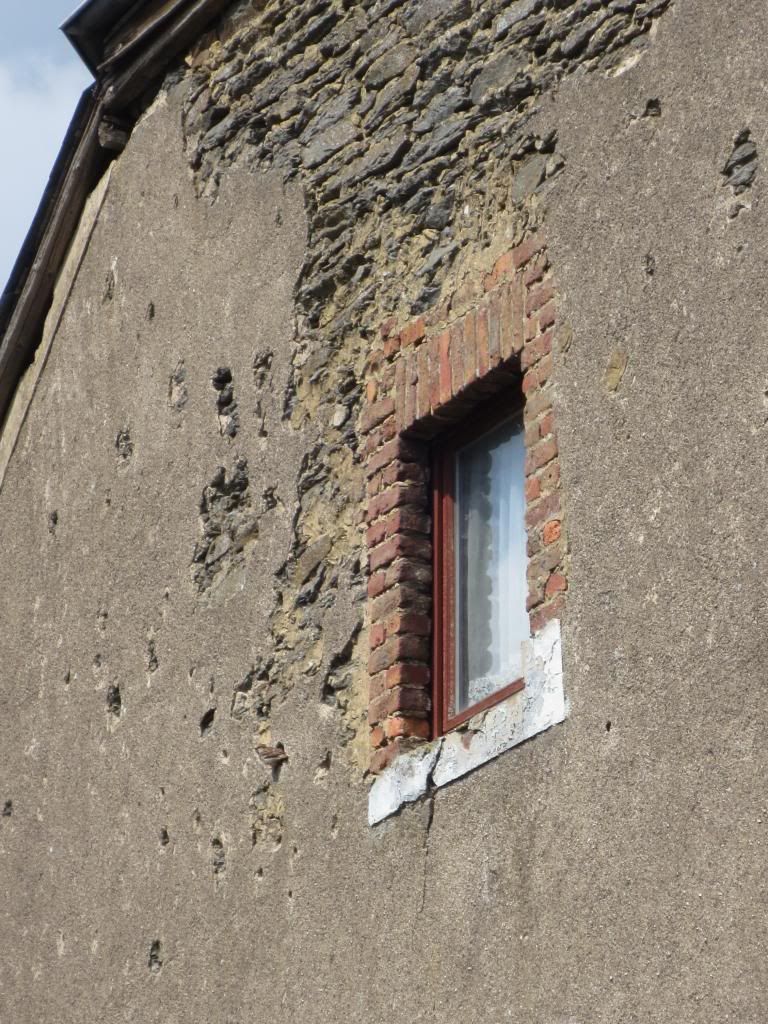 During the Battle of the Bulge, the Germans asked the US army in the Bastogne pocket to surrender. Here is a copy of the request:
To the U.S.A. Commander of the encircled town of Bastogne.
The fortune of war is changing. This time the U.S.A. forces in and near Bastogne have been encircled by strong German armored units. More German armored units have crossed the river
Our troops near Ortheuville, have taken Marche and reached St. Hubert by passing through Hompre-Sibret-Tillet. Libramont is in German hands.
There is only one possibility to save the encircled U.S.A. troops from total annihilation: that is the honorable surrender of the encircled town. In order to think it over a term of two hours will be granted beginning with the presentation of this note.
If this proposal should be rejected one German Artillery Corps and six heavy A. A. Battalions are ready to annihilate the U.S.A. troops in and near Bastogne. The order for firing will be given immediately after this two hours term.
All the serious civilian losses caused by this artillery fire would not correspond with the well-known American humanity.
General McAuliffe was the US commander of troops in Bastogne. His response to the German request is somewhat shorter and to-the-point: "NUTS!" Below is QT's picture of the preserved bunker from where McAuliffe issued this quirky response.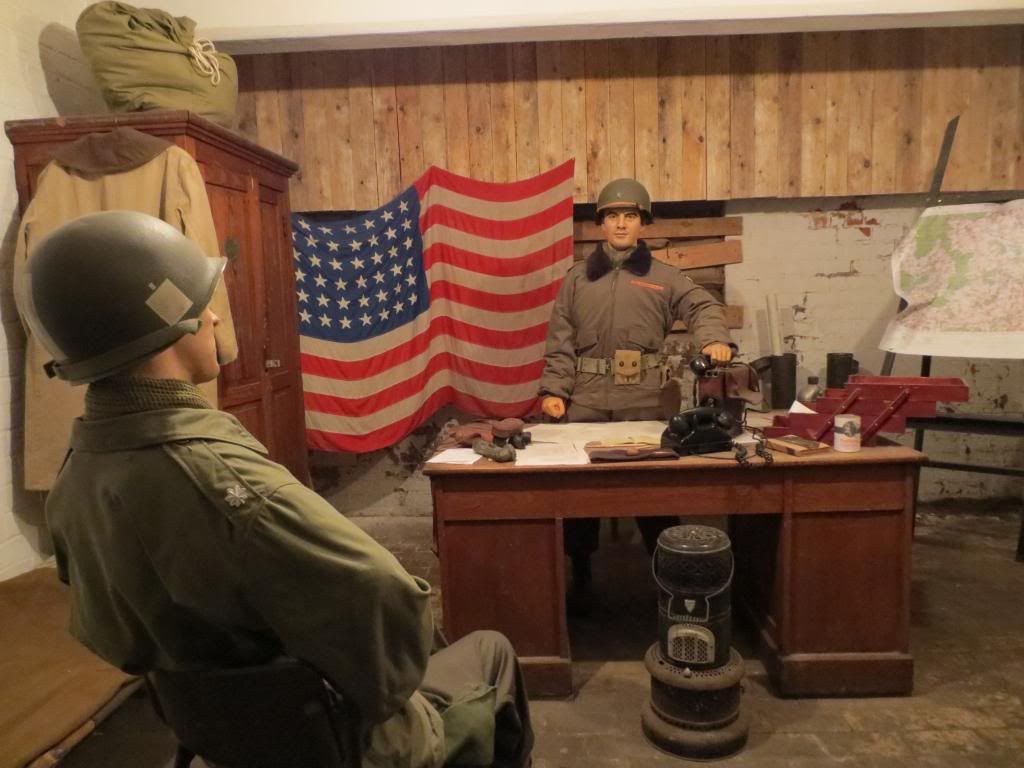 Finally, Belgians in this area have ensured that the sacrifices of American soldiers during the war will not be forgotten. Below are QT's pictures of the Bastogne memorial to General Patton, and the Mardassan Memorial that honours the liberating troops.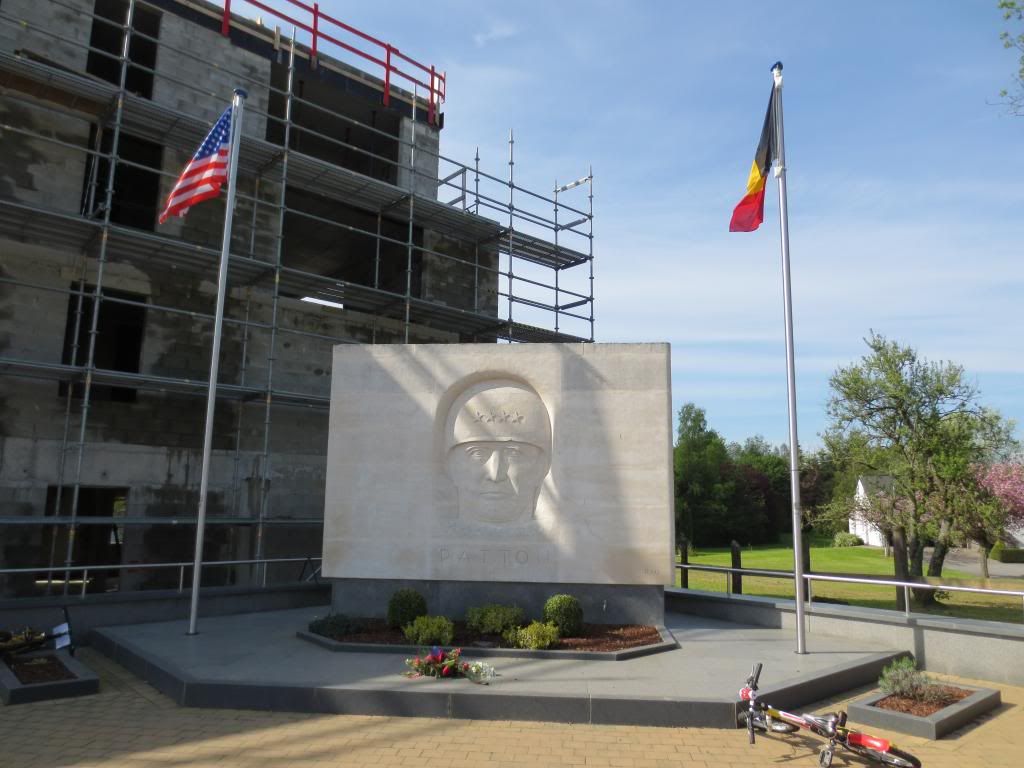 Thanks again to OntheQT for sharing the photos and providing additional information associated with them.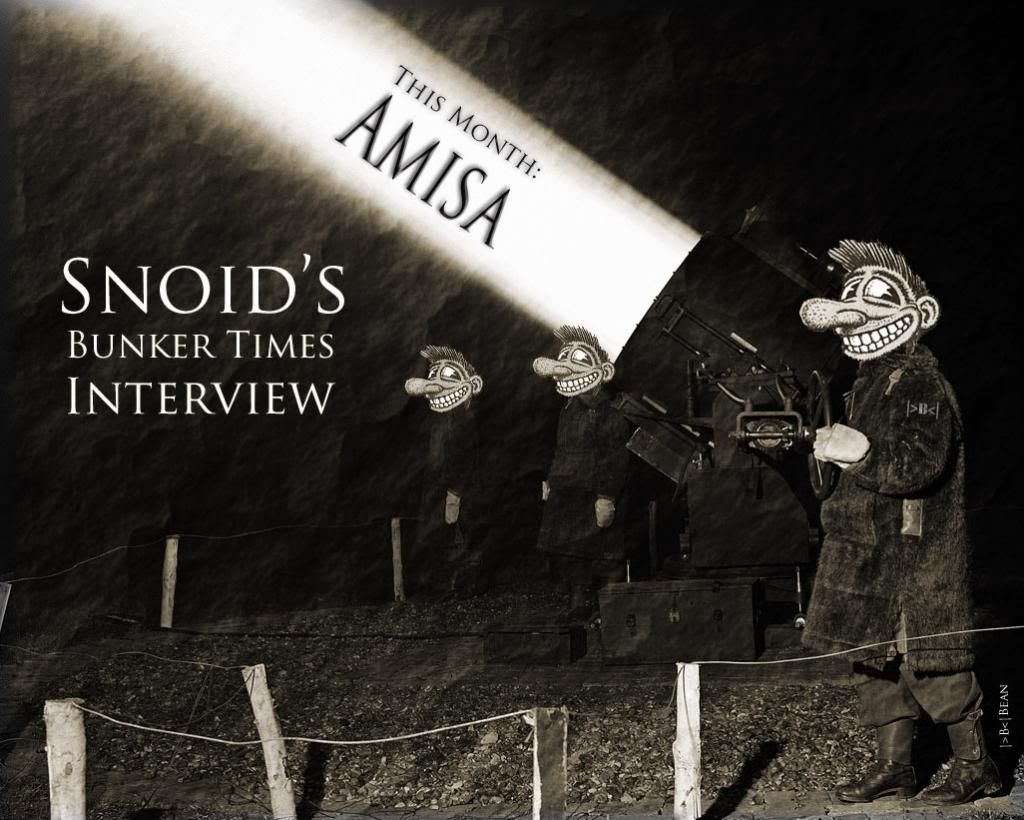 Q: Let's start off with some basics. What is your age? Where do you live? What is your current situation… are you going to school, living on your own, working? Etc.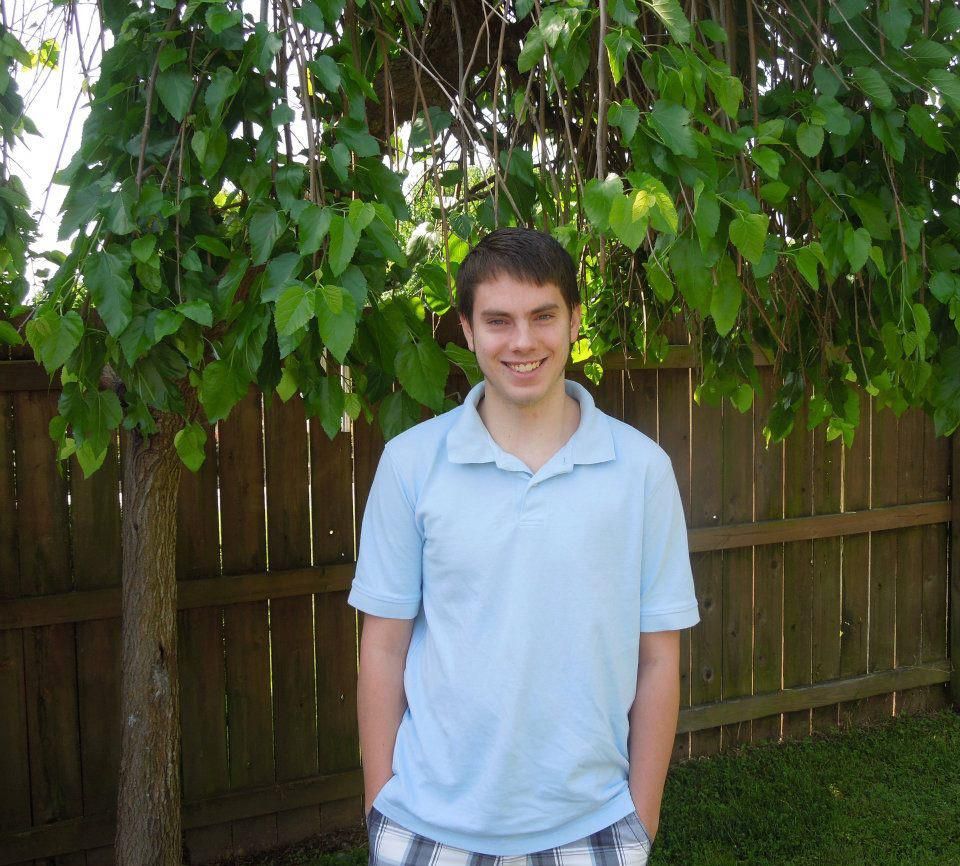 A: My name is Rustin Gann. I am 18 years old, I live in Hendersonville, Tennessee. I will be attending college in the fall and I will be living at home for the first couple of years. I will continue to work at Rite Aid, a drug store chain.

Q: Where will you be going to school and do you know what it is you're planning to do once you've graduated?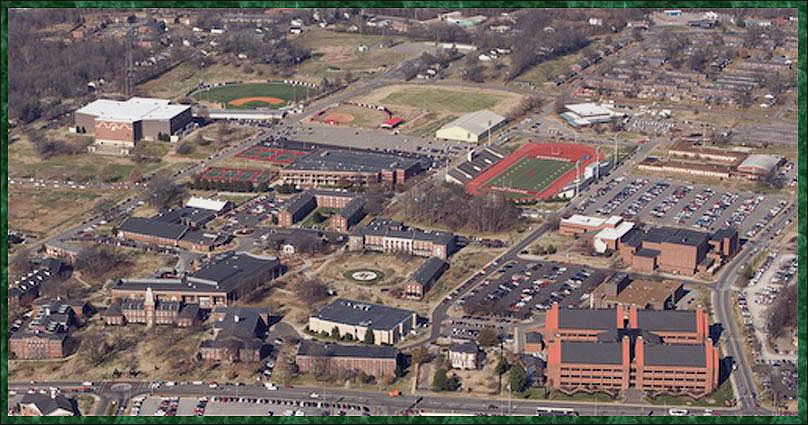 A: I will be going to Austin Peay State University. My major is in communications with a concentration in sports broadcasting. I want to broadcast for a sports team after college, preferably the Nashville Predators or some team in Seattle.

Q: If you were able to predict what you'd be doing in 10 years, what would it be? Example: Married with two kids, working as a sports announcer, own two cars and paying off a mortgage on a house? Etc.

A: I see myself living in a modest home paying rent/mortgage married with maybe one child (another will come later). If everything goes as I plan I will be broadcasting sports for a living.

Q: Do you have any brothers or sisters?
From left to right: My older brother, father, and me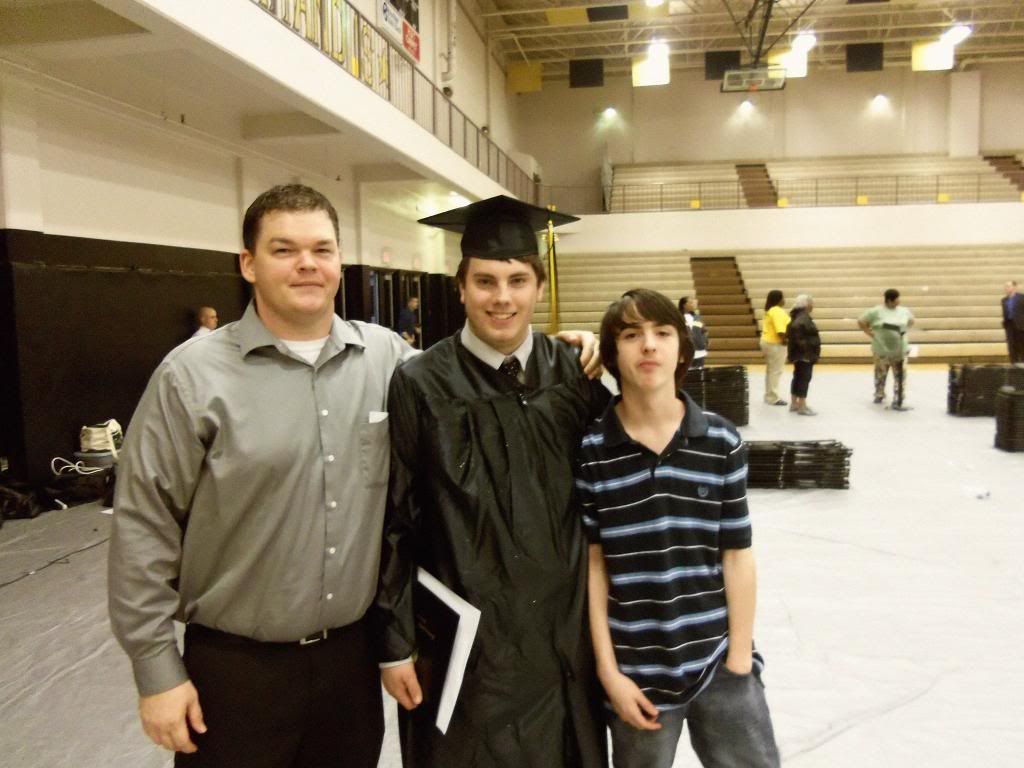 From left to right: My step-father, me, and step-brother at high school graduation
From left to right: My step-brother, little brother, me, and little sister one month before my mother passed away
A: I have 3 brothers (2 half-brothers and 1 step-brother, ages 23, 15, and -
- and 2 sisters (both half-sisters, both age 7). Only the two youngest brothers and one of the sisters live with me.

Q: Do you have a girl friend?
Me and my girlfriend at Prom 2013
A: Yes. We have been dating for three years, and if everything goes right, we will be together much longer.

Q: Is the school you'll be attending this fall in your home town? If not, where is it and how far is it from your home town?

A: The school that I will be attending is about a 45 minute drive from my hometown. It is located in Clarksville, Tennessee.

Q: Are you going to try to stay connected to the Bunker Community while in school?

A: No doubt. I have been involved in the Bunker Community since the mid-2000s. Back then, I was about 10 years old and playing under a different ET key and a different alias. Been playing with Bunker for about 8 years so far, and will be for many more years to come. I can see myself playing this game until it dies or I die, whichever comes first.

Q: When did you first learn about Wolfenstein ET and who told you about it?

A: Both my mother and my father played ET when I was between the ages of 8-12, so I started playing in Bunker, Free Beer XP Save, and GAT communities/clans. After a while, I was solely playing on Bunker.

Q: Do you have any close friends who play Wolfenstein ET?

A: I have a friend that used to play, but stopped when his software screwed up on him. I got him back into it but he couldn't get his software to work. (We have very smart people here who will help him.)

Q: What are some of your other interests, other than Wolfenstein ET? Are you involved in sports? Hobbies?

A: I play pretty much any sport. I play soccer, football, hockey, field hockey, rugby, and basketball. I like to study sports statistics and I love to discuss conspiracies.

Q: What do you like about the Bunker Community?

A: I love how everyone is involved. I love reading the Bunker Times, I love playing the game itself, I like everyone who plays. The only thing I hate is cheaters who come on and target me immediately. Haha

Q: Is there anything that could use some fixing?

A: In my opinion, everything is good as it is. I cannot think of anything that could be improved off the top of my head.

Q: When you're playing, do you have a class of soldier you prefer?

A: I play the class that my team is in need of the most. I don't really have a preference of class.

Q: What are some of your favorite maps?

A: The original six maps, Dubrovnik, the newer versions of Siwa Oasis, and the list goes on.

Q: What is your favorite weapon?

A: I like the MP40 more than the Thompson; I do not know why exactly… just do. But my favorite weapon is either of the sniper rifles. (K43 or Garand) -
-

Finish the following sentences…

I think B!O is one of the best Bunker players.

When I have a question about Wolfenstein ET, or about something involving the Bunker Community, I usually message B!O.

My 5 member dream team would include myself and four others… B!O, Snoid, -
- Falkes, and Motion.

Q: When is the best time for you to play Wolfenstein ET on B1?

A: The best time for me (when I work at night) is after 10:00pm (22:00) or (when I'm off that night) whenever the server has a good size number of players.

Q: Do you play on all the Bunker servers and if yes, when?

A: I don't play on B10 or B2 very much… I'm active on B4 when there are no bots or maybe a couple of bots… but B1 is my home.

Q: Do you think you have a special talent that could be a benefit to the Wolfenstein Community?

A: Honestly, I do not believe I have anything to give that would benefit the community… if anyone else thinks I do let me know because you see something in me that I do not.

Q: What other online or console games to you play?

A: I play PS3 and Xbox 360. I play mainly sports games on those consoles.

Q: Is Wolfenstein ET your favorite game? Why / Why not?

A: ET is definitely my favorite game because I have built a family here. I have played for a long time, and have gotten a chance to get to know some people. The only thing that could top everything off is if I could attend a Bunker Party.

Q: What do you use to play Wolfenstein ET? (PC / Lap top etc)

A: I use a PC to play ET. I think it would be difficult to play on a laptop.