December 2013
Community News & Information Vol. 118
Written, edited and published by:Snoid
Regular contributor:Bean
Regular contributor:Wolf
- Community Statistics -
Total Posts: 296,975
Total Members: 4,663
Newest Member: Pikachu
Most Online: 194
Spammers Stopped: 32,432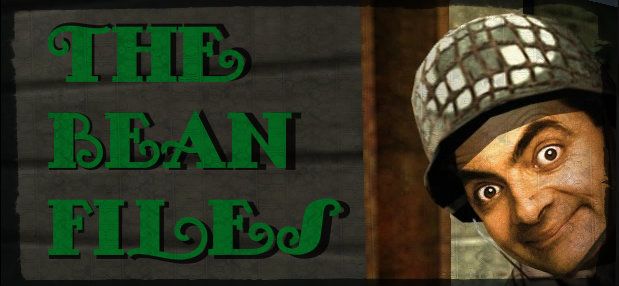 THE MEDICS OF WORLD WAR II
Wargames, especially First Person Shooters, must stray from reality in order to make them playable and exciting. Every class in Wolfenstein: Enemy Territory - medic, field ops, engineer, or soldier - is slightly different from their actual role during World War II. The medic class is perhaps the most different.
The first, most significant difference between real medics and those portrayed in the game is this: Real medics were not armed with weaponry. No guns. No grenades. And certainly no poison needles! Their sole purpose was to provide medical assistance to their own troops. In some cases, they'd also attend to captured enemy soldiers, after the battle ended.
The rules of warfare also dictated that medics were not to be targeted by enemy forces. That's why they usually had large "red crosses" on their helmets, and armbands with similar insignia, like those pictured below.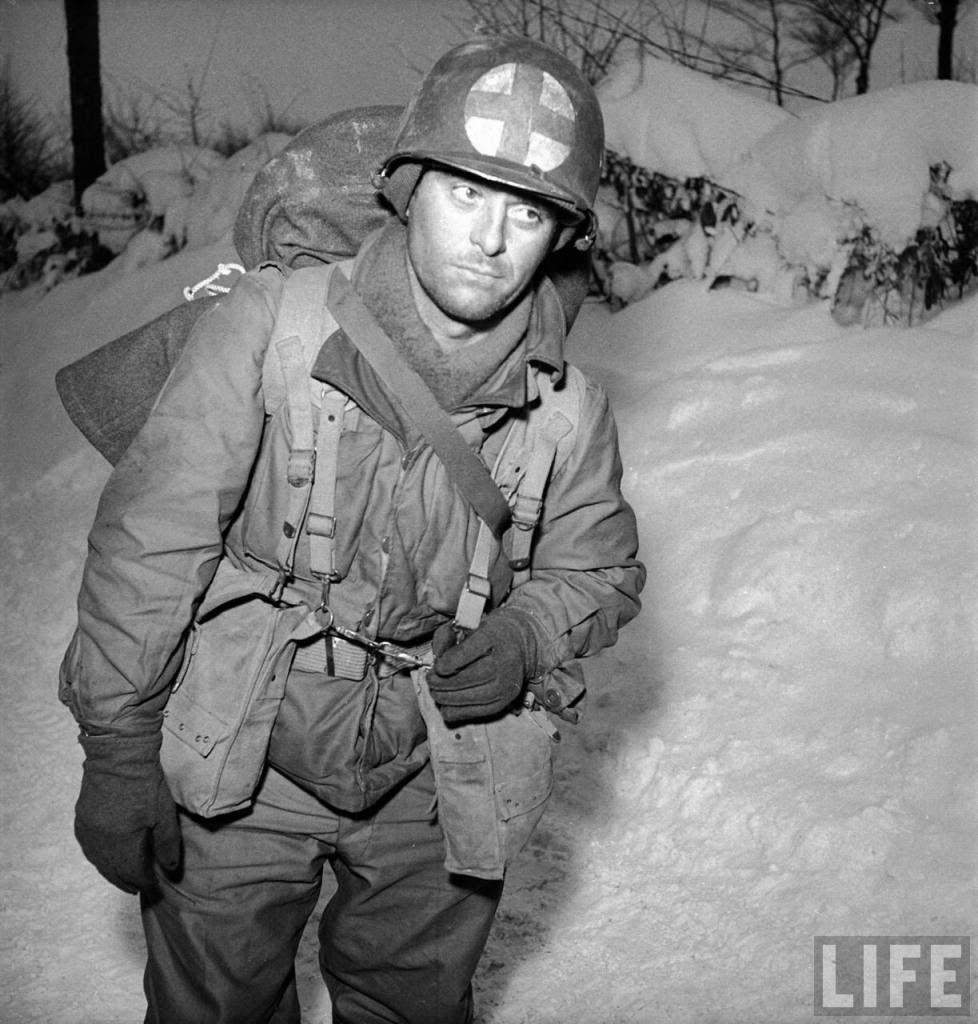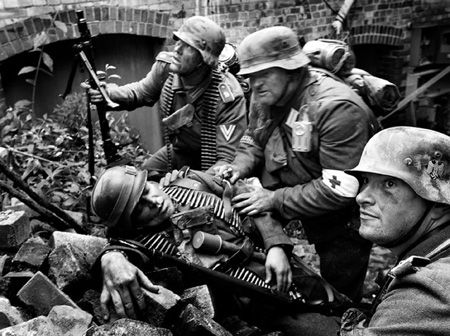 Allied commanders often complained to the German counterparts that the Germans often shot at medics, despite the prominent insignia. In the heat of battle, anything can happen. Below two Allied soldiers assist an injured medic who is clearly in some pain.
The use of adrenaline by medics in Wolfenstein: Enemy Territory is a much-discussed topic. When playing the game, we use it as a performance-enhancing chemical. It makes us run faster and reduces the damage that we sustain. This was not the case in World War II: Adrenaline was used to help an injured soldier who was suffering from an allergic reaction to other medicines. A shot of adrenaline helped the soldier overcome the reaction, by increasing his heartbeat and blood flow. The original caption of the photograph shown below states that the medics are administering adrenaline to the injured soldier on board a ship, after the Normandy landings in 1944.
Finally, medics ensured that injured soldiers were quickly evacuated from the front lines. Below is an interesting pair of photographs from 1944, which show medics helping an injured soldier while his comrades continue to fire at the enemy. The medics successfully place the injured soldier on a jeep for evacuation.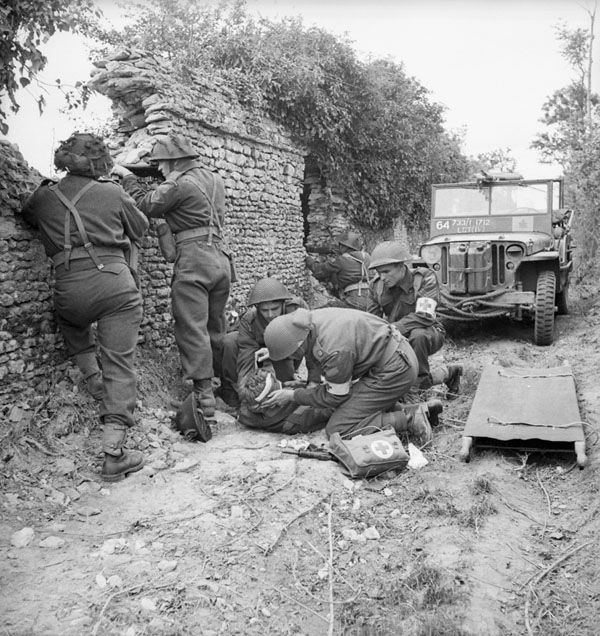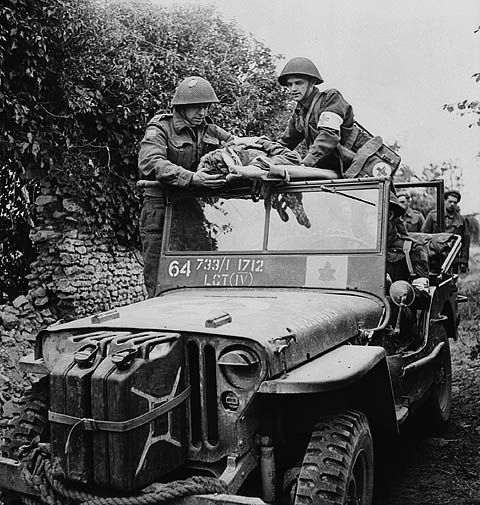 Wolverine is the subject of my interview this month
Q: How did you first start getting into the game of Wolfenstein?
A: Back in 2001 I was given a copy of the new Return to Castle Wolfenstein game and surprisingly I played through all the levels to the very end which is a rare feat for me as I normally lose interest half way through most games. However, RCW was different; I loved the weapons, the missions and the zombie characters and was totally addicted to the game. When I finished I wanted more, I thought I was an uber-player so I began to explore the multiplayer options only to discover to my horror that killing predictable zombies was one thing and killing real online players was another.
Q: What is your fist memory of playing the game? Was it a good memory?
A: No not really. Like all newbies I had no idea what the hell I was doing or where to go and got my ass kicked a lot. It was a real learning curve and there were a lot or really good players around. I remember a Canadian player called Argawen who I thought was awesome.
Q: Initially what did you like about ET to make you want to play it? What did you not like?
A: Well what I did like about ET was that there were so many servers and so many players you could play at almost anytime of day or night. I could connect to B2 early in the afternoon and play till late evening and then switch to B1 when the American and Canadian players logged on and play till the early hours of the morning.
What I didn't like was that servers were often packed and it was not easy to connect at times which meant players could be kicked for the most trivial of offences back then.
Q: What do you think the hardest class to play is? And why?
A: Definitely covert because no matter what, I simply can't snipe or kill as easily as others can with my knife or poisoned needle.
Q: Do you like "debatable" things like adren, panzers, or flak jackets? Do you think they are good for the game?
A: I think everything has a time and a place in the game but unfortunately adrenaline is by far the worst addition to the game by the simple fact that it is over-used. It is supposed to be a medic skill to allow medics to rush in and heal team players when engaged in a fierce fire-fight. Instead it became abused by Rambo-medics who would use it to kill everyone in sight without bothering to heal anyone. Now in some servers I see adrenaline pumped panzer noobs, adrenaline flamers, and adrenaline engineers with shotguns….Some players can't even leave spawn without first injecting themselves with adrenaline which is sad really. Even though I play as a medic I refuse to use adrenaline except in very exceptional circumstances.
Q: Over the years what has been the best part of ET? The worst?
A: The best part has been having the privilege to play with so many good and fun players over the years. It's always nice to remember or be remembered by people you have fragged in the different servers. The worst part has been having had to deal with the unsporting players who use cheats and spoil the game. I think the day Punkbuster pulled the plug on ET signaled a downward spiral to the game which has seen player numbers dwindle drastically over the past couple of years especially. Isn't there a software genius out there who can finally make a cheat proof system for our beloved game?
Q: Do you play other video games? More or less than Wolfenstein?
A: None. Only ET for me. It took me years of perfection to get to be something of a decent player at this game. I don't think I have the time or the patience to start learning any other game but who knows, maybe one day I might be tempted.
Q: What do you look for in a video game? Like what makes you keep coming back to it?
A: I like the originality of maps as well as playability. ET combines a lot of these elements together with class variations which definitely makes it a winner.
Q: What made you play ET over other popular video games such as CoD?
A: Possibly the fact I played ET first! It's just one of those unplanned things that developed the way it did.
Q: Do you still play ET regularly? Why do you think ET has survived this long, and how long do you think it will continue?
A: I play almost every day if I can, but it depends on whether there are enough players connected or not. ET has survived this long simply because it is a great multi-player shooting game and I hope it continues for many years to come.
Q: If you had never found ET, what other video games would you play?
A: No idea.
Q: If you could change something within the technical game play of ET, what would you change? (Ie add/remove a class, change guns, etc.)
A: I liked the new weapons in Silent so new balanced weapons that would be something to look forward to. Adrenaline is a problem that needs to be restricted as it can be easily abused depending on each server's own individual settings. Frankly I think B4 offers the best settings without hindering playability but I wouldn't go as far as removing a class and the only weapon that is out of sync is the venom gun. It's quite useless in game.
Q: Play-styles are something that I've learned are very important lately; how would you describe your ET gaming style?
A: Well I almost always play medic so it is easy to be branded as a Rambo-medic simply because I can rake up a high kill ratio per game. But there is much more to this than just fragging. I use the medic class and its ability to heal very much like Special Forces, infiltrate behind enemy lines, reap havoc and keep the area clear so that objectives can be achieved. When I play I prefer to circumnavigate using the secondary approach points rather than go gung-ho as many players seem to do. The trick is not to see how many you kill but how few times you get killed yourself. Pick and choose the fights, stay on the high ground or vantage points and retreat if necessary because invariably if you are outgunned it is you who will die. Picking up a panzer is not a solution. Go round, hit them from behind and not stay in the same place too long. If they know you are there they will find you and kill you. Move constantly and become unpredictable is the key to success…..Using adrenaline is not.
Q: How did you find and come to Bunker servers? Do you remember the first time playing here?
A: I remember when I first started playing in the old HSX servers (before Bunker) and my views of some of the HSX guys are probably unprintable. Tabasco the leader of HSX later joined up with SuddenDeath and Belzebub to form the Bunker community. Bunker at first wasn't much better in its treatment of non-tag members but eventually after a lot of perseverance and getting to know the admins and members in B2 I was finally 'tagged' by Unknown Soldier.
There were a lot of players I still remember from back then; Aldar, Angstman, Mystic Warrior, Adit, Zebra, Vissert, Wing-Wong, Sushi, Tunte, Dark Easter Bunny, Old-Owl and Fragger to name but a few. Old-Owl left to form Dark Alchemy )A( and Fragger formed his Flame Guards community -|FG|- both of which are still going strong although FG are no longer playing ET which is a pity. There are still a few old grizzled veterans still out there like DJBO, Creepy Geek and of course me but some of the oldies goldies sometimes make an appearance from time to time.
Q: Have you ever played ET on the competitive level, like scrimmages? If so, how did you like it compared to just casual playing?
A: No not really. I've played very few scrimmages but hated it. I try to avoid playing in ET Pro servers like the plague. Of the very few matches I have played I found it quite boring actually, every game starting at 0 skill levels meaning players only have 1 clip of ammo and tap out before they can get shot at or as soon as they run out of bullets. Basically its just a lot of stress playing against the clock to complete the objective in the least time possible. Personally I love fragging for fun not competition.
Q: And finally, what is one of your favorite memories of ET? What will you always remember, years and years from now, about ET?
A: Hearing B!0 say awoooooooooooooooh! every time I connect to the server
Q: Is there anything else you want to add, or address?
A: Play, enjoy, learn from others and keep away from the temptation of using a hax. It doesn't make you better and no, not everyone who plays well uses one. The best players take years to perfect and hone in their skills and for this they earn the respect of those who play with them. Cheaters learn nothing and achieve nothing in the long run. When they get caught they are named and shamed and rightly so.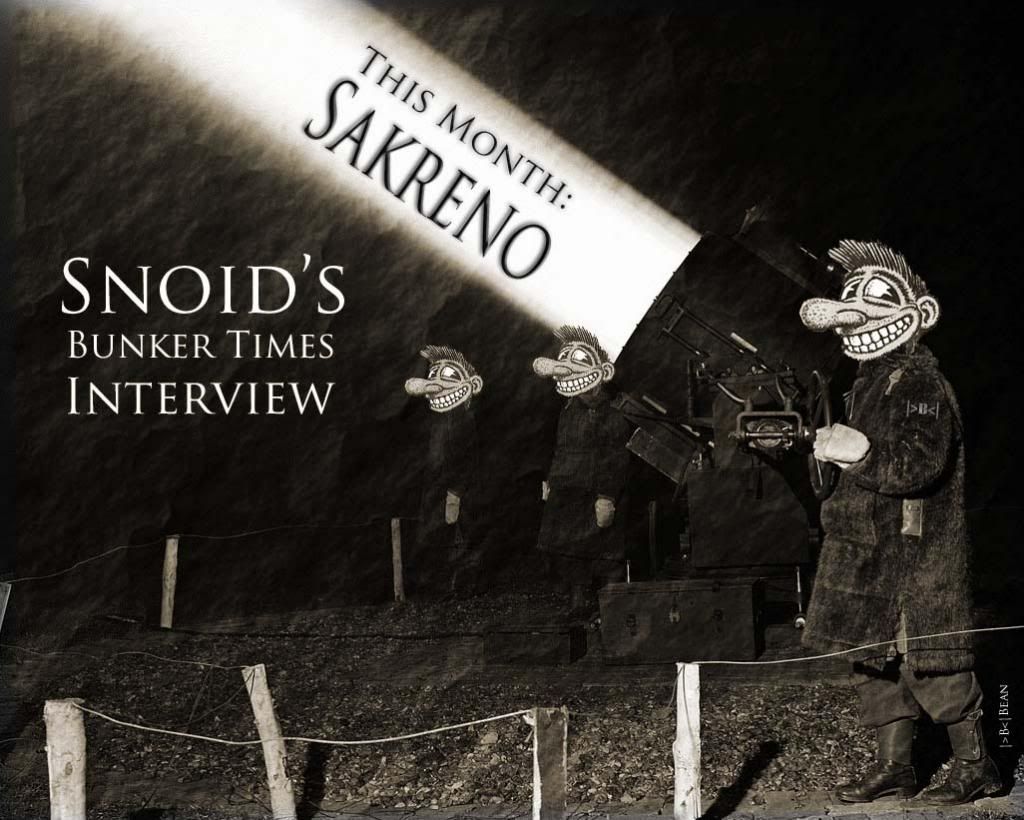 Q: What is your "player name" where did you get it from and what is your real name?
A: My real name is Michal.
Although it might be hard for people, even if I introduce myself as Michael.
My player name is Sakreno. Many years ago, I was playing RPG games, and I needed an unique name, which is always available. So I came up with this one from a bunch of letters around the room and my last name.
Combined, it turned out pretty good. At least I was proud of it. Hey, don't judge me, I was 12 at that time!
Q: Where were you born and where do you live now?
A: I was born in Mielec, Poland. But I spent most of my life in Krakow - The greatest city of them all.Recently I have moved to Brooklyn, New York, to start my own independent life. It's been half a year now. Impressive or just stupid? I'm curious.
PS, It always rains when I drive a car. Coincidence?
Q: What is your family like and what are some of your memories growing up?
A: My family is very supportive, I wish everybody had parents like I do. Two younger brothers taught me a lot about patience and changing diapers... First memory I remember is when I was maybe four - I was jumping up to switch off the light in the toilet. I know it's pretty interesting! Second one is when I dropped my toy from 10 stories building and it shattered. That is a pretty awesome childhood, don't you think?
Q: When did you first get interested in video gaming and what were some of the first games you played?
A: I got interested in gaming very early. I have an uncle who is only 4 years older than me, and he was always showing me the technology. I started my journey with PEGASUS console. I played mario, contra and tanks all the time. A little bit later, on a PC, I found out Jazz Jackrabbit, Worms, Heroes, Midtown Madness and NOX - it got me into the RPGs.
Q: When did you first learn about Wolfenstein ET and how did you find the Bunker Community?
A: I think it was in 2006 or 07. One of my friends was against playing Counter Strike all the time, and he found out ET and Bunker4 server, and later, introduced it to me. It's a shame he doesn't play anymore. There was a time on Bunker 4, when XP resetted automatically after you hit the 30k. He left because of that. But I think it was a good idea. And since then, I been playing all of the bunker servers!
Q: People have different priorities at different times in their lives. Are online video games important to you now and describe whether Wolfenstein ET is still relevant in your life?
A: Yes, they are important part of my life, they help me to relax and improve my english skill. ET is always the first game on my hard drive and is number one. That's a shame I play rarely now. I miss the old times with all the folks!
Q: When you visit the Bunker website or play Wolfenstein ET, are you surprised to find a strong core of players who keep playing the game and even make new maps for it?
A: I am not surprised at all. It's an oldschool game with outstanding gameplay and people. I don't know how about other servers, because I play bunkers only.
Q: What are your top priorities right now? School? Job? Family?
A: Currently I am saving (or at least trying to save) money for an EMT training and certificate. I always dreamt about it. I never knew that life is so expensive, and I will be saving on the stupidest things I could ever save on, i.e. food or footwear. Now I am skinny and barefoot!;-) Also I work in a plumbing company.
I am standing on a pile of garbage in somebodys apartment. It's something I have to deal with from time to time. Clean before plumbers come!
Q: What are some of your favorite Wolfenstein maps?
A: That is a long list - depends on the amount of players. But my top favourite ones are Industry, Goldrush, Minastirith, MLB Day Break, Marakech Streets, Dubrovnik. I consider myself as an average player. I enjoy most of the maps!
Q: What classes of soldier do you like playing and why?
A: When I started playing, I was playing Medic a lot. Some players might remember me charging mindlessly with red eyes into the crowd of enemies. But it has changed. I started playing Engineer a lot, and loved it. I am a teamplayer, so I enjoy planting or disarming a dynamite. Blowing enemies with mines is also very entertaining. Sometimes I pick a Covert Ops due to my poor internet connection, and sometimes a Medic. Now I'd sacrifice myself to revive anybody.
Q: What do you like about Wolfenstein ET?
A: I like the unknown. You never know what's behind the corner, you never know where did that crazy guy put landmines or satchel. And of course I love the people! Communities like ours, this is the best that happened to this game, and it's the reason it's still alive and kicking!
Q: Do you still think Wolfenstein is a fun game, even though it's over ten years old?
A: Yes I do. It wouldn't be that fun without the people, who keep improving it, creating different mods, hitboxes, maps. It is made from the heart, and you can see and feel it. You just can.
Q: Do you play any other online or console video game? Which ones?
A: Unfortunately, right now I don't have much time to play games. But I am a fan of Heroes series, Collin McRae, Dirt, Max Payne. I play them in my free time (if there's any!). But I always choose ET first!
Q: Are you surprised to see some of your old Wolfenstein buddies still playing?
A: Yes I am! And I respect people who did not gave up on the game and community. I would like to write some names, but I'm afraid I'll forget someone, and It'll might hurt them! Don't worry, even if you don't remember me anymore, I do remember you!
Q: Have you met at of your Bunker mates face to face? Who?
A: No I haven't and that's a shame!
Q: What are your goals in life right now and will video games always be a part of your life?
A: My goals are to finish school, I was doing bachelor studies in Poland, but I chose living in New York over university. Now after getting an EMT certificate (lets see how long it takes!), I want to save peoples lives. Sounds like a childish kinda goal, but what life would be without some crazy ideas? Video gaming is always gonna be there as a relaxing technique.
Q: Do you think you'll ever spend more time playing Wolfenstein ET or is it time for you to move on to other things?
A: Yes, I will play more Wolfenstein ET after I find a stable income and different apartment!
Q: The Bunker website has been updated over the last couple of years. Do you like what you see?
A: At first I hated it. I was so used to the old one, I voted all the polls negative. But I gave it a little while. I enjoy the features, shoutbox, arcade, and I'm glad they've restored ibProBattle few months ago. I used to play it all the time! Keep doing your job guys!
Q: When you log on, do you read The Bunker Times?
A: Yes, I always read the TBT. But I am really ashamed I rarely add a comment. I enjoy the interviews the most, that's why I agreed to do one! Also the articles on weapons were pretty interesting, and I think... wait, not only think. I KNOW the TBT crew is doing great job!
Q: Do you have any constructive comments or ideas you'd like to pass on to the people who run the Bunker website?
A: It runs very well, I like the design, I know all the buttons, I got used to it. But sometimes I think it's too dark. I don't know why, I just do.
Q: Anything you'd like to say to any of your old Bunker mates?
A: Yes. I never said thank you to all the people who voted in favour of me, to become a bunker member. It meant to me a lot! Thank you guys!
Q: It was good to see you visit the Bunker website. Will you continue to visit and play Wolfenstein ET once in a while?
A: Simple. Thank you, yes, and yes!
Q: Do you have any final comments?
A: I shared so much personal information with you, and I hope you at least enjoyed one or two of my answers! It's nice to play here with you guys, in the Bunker Gaming Community! Thank you for reading!