June 2014
Community News & Information Vol. 124
Written, edited and published by:Snoid
Regular contributor:Bean
- Community Statistics -
Total Posts: 301,077
Total Members: 4,711
Newest Member: Barley
Most Online: 194
Spammers Stopped: 44,073
TBT Editorial: Snoid
It has become apparent interest in the Bunker Community, and in the game Wolfenstein ET, has declined rapidly over the last six months. Before that, a slow decline was obvious due to the age of Wolfenstein ET, newer games on the market, and other factors beyond our control. Those who run this community have done and continue to do everything possible to to make gaming on our servers a pleasant and enjoyable experience. The changes we have made over the years have not pleased everyone... but have been decisions made following community input. While efforts to boost participation will continue into the near future, the final outcome is uncertain. Therefore I have decided to suspend my involvement in this newsletter. My friend and associate, Bean, who has contributed greatly to the popularity of this online publication, agrees with this decision and will add a personal message of his own after his final Bean Files report.
It has been my extreme pleasure to have furnished the community with The Bunker Times postings beginning in April of 2011 and ending in June of 2014, a little over three years.
I will continue hanging around the Bunker Community as long as it exists, and will always check to see if the Bunker servers are populated before attempting to find activity on other servers. Although I'm looking into other on-line multi-player games, Wolfenstein ET will always be my favorite (retro) game. Sincerely, Snoid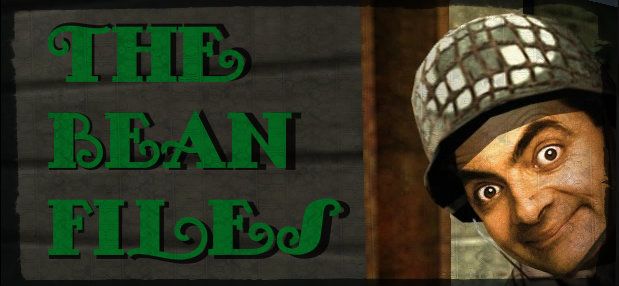 THE LAST ALLIED CASUALTY OF WORLD WAR II
Last month we told the story of Piotr Konieczka, the first Allied (Polish) soldier to die in World War II. In the comment section of that article, Killjoy, partially in jest, asked about the last Allied soldier who died during that conflict.
Ask, and you shall receive! Killjoy threw down the challenge; the Bean Files research team rose to meet it.
Like last month's subject, it's easy to narrow things down a bit. The last Allied soldier to die during World War II must've met his fate in the Pacific theatre of operations, against the Japanese. The war there raged there for months after the war in Europe ended in May 1945.
Another wrinkle is how to define "the last soldier to die." Do we include soldiers who were wounded, but then died after the end of the war? And what about soldiers killed in guerrilla actions that also occurred after the end of the war? Complicated stuff, this is. Thanks Killjoy – you've made us earn our keep this month.
We figure we should keep it simple: We consider only Allied soldiers who were killed right before the official end of the war. Therefore, the sad honour goes to Private Edward O'Dell Mullins Jr., pictured below.
Mullins was born and bred in Kentucky, USA. He was a bricklayer, carpenter, and later, when he moved to near Cincinnati, Ohio, he was a farm labourer. Due to his employment on a farm, he was exempt from the wartime draft for quite some time. By late 1944 he decided to join the US Army.
After his basic and other training, he was placed in the 32nd Infantry Division, also known as the Red Arrow Division. He arrived in the Pacific theatre, on the front lines, in early March 1945.
Mullins was an expert with the Browning Automatic Rifle, otherwise known as the BAR. In a letter home, he described his BAR in simple yet effective terms: "It sure can sling a lot of lead!" He used his BAR in defeating a Japanese ambush in the Philippines, for which he was awarded a Bronze Star of Honour, in July 1945.
On the early morning of August 14, 1945, Mullins and his platoon were in a defensive position in Bagabag, Philippines. Pockets of Japanese soldiers were positioned there, and elsewhere in the Pacific. Several hundred miles away, Japanese and Allied leaders had recently decided to declare a cease-fire, which would start at 7:00 that morning. The cease-fire was a prelude to the Japanese surrender. At 6:15 that morning, Mullins' unit was suddenly ordered to withdraw from their position.
As Mullins rose from his foxhole, a Japanese sniper carefully took aim at his head. He slowly pulled the trigger. With a single shot to the head, Mullins died instantly, only 45 minutes before the start of the cease-fire that would end the war.
To make matters worse, one year later Mullins' only brother – also a soldier – was also killed. He died in an accident in England, where American troops were still stationed.
Edward O'Dell Mullins Jr. was the last of over 400,000 American soldiers to die in the war. May they rest in peace.
------ 0 ------
As noted elsewhere in this issue, "The Bunker Times" is going on hiatus for the time being. This month marks three years that I've been writing for The Times, first with general articles and later under the banner "The Bean Files." It's been a blast. I consider myself lucky to have worked closely with Snoid, an officer and a gentleman if there ever was one. I hope you enjoy this last article! Bean
Further Postings Of TBT Are Suspended
until interest in the Bunker Community is revived.
Edited by Snoid, 10 September 2014 - 04:44 AM.